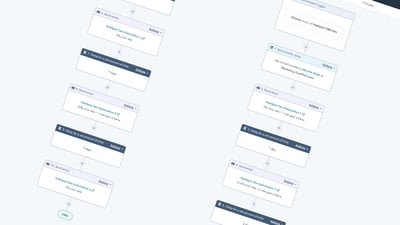 One of the benefits of upgrading to HubSpot Professional is the ability to start using workflows to automate your marketing.
While sending one-off emails will get you far into the inbound marketing process, it might be time to automate when you have a rather segmented group of leads that's regularly increasing.
This post intends to introduce you to HubSpot Workflows and some of the ways I've used it with clients in the past to start accelerating their inbound strategy.
The two main parts of a workflow are the trigger and actions—the "if this, then that" for those familiar with IFTT, or Zapier. HubSpot workflows run the same way. Give the workflow a set of steps to execute, with some time delay, and who should start getting those steps, and it'll chug along.
Here are a few examples of using workflows:
Sending a

welcome series to new subscribers

so they know what to expect and establishing that relationship
Getting

customers onboarded

, so they're more familiar with your product or service and less likely to churn
Automatically sending a

re-engagement campaign

to leads that meet specific criteria to bring that back to your business
Integrating with other apps to update data in them or sending out SMS messages
Creating an in-app notification to the sales team once a lead's data changes, like from an MQL to a SQL
And on and on…
Almost anything you can think to automate, you can automate. Workflows can also run on Company and Deal properties, and you can use them to copy over data from one record to another.
Building a workflow first means deciding on its goal, which you can set in the workflow settings so it's trackable. For example, if you want to send a series of emails to announce an upcoming webinar, you could kick people out of the workflow once they register or start sending other content instead.
Once you know what the workflow is supposed to do, you can look at the intended audience and how the workflow should be designed. Maybe it's a series of three emails that go out weekly. Perhaps it's just one SMS that sends once someone makes a purchase. These can be experimented with afterward.
Then, once you know the who, where, and how, then it's the what or the actual content creation that will be the same as any one-off email, or maybe even shorter emails if contacts get several in a series.
If you're interested in learning more about the power of workflows or want to brainstorm ways of automating your marketing, get in touch!
I help business owners and marketing professionals build powerful, automated content systems, which increase sales and boost customer happiness. Here's how it works.