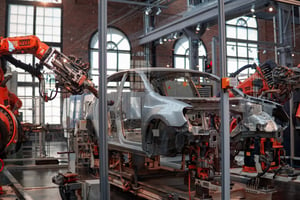 We come across automated marketing and content on a daily basis, whether it's an appointment reminder at the dentist, a birthday greeting from your favorite online retailer, or a welcome email when we sign up for offers.
In fact, 80% of the top online retailers have used automation for over two years. But automation doesn't have to be reserved for these online giants. You can implement automation in your business too.
When I first heard about automation, I was skeptical. I wanted to reach out to each of my new leads individually, and do everything myself to ensure things were getting done the way that I wanted.
But here's what I realized:
When I automate the "little stuff," it gives me more time to do the "big stuff."
I can make better connections with leads, perfect a blog post, or spend extra time with an existing client because I automate some of the other daily tasks I need to handle. And it doesn't ever have to feel impersonal if you're doing it right.
Here are a few ways to make automation work for you.
1. Welcoming a New Lead
There's no better time to land a well-crafted email in a new lead's inbox than at the peak of their interest -- when they provide you with their email address. Take advantage of their interest with a discount offer or a welcome email.
This is also a great opportunity to make a first impression, so it can be fun, unique and engaging -- it can still be a reflection of you. And when it's automated, it makes your job even easier. Here are a few stellar examples of welcome emails to get your leads excited about your brand.
Building an automated onboarding series is one of the primary projects I accomplish when working with new clients. For example, for a non-profit client, we setup an onboarding series for both major audiences, with different content, and extended timeline due to the industry. However, for a real estate client, we have an onboarding series that has much shorter content, and a faster pace.
You can also automate an evergreen email series to reach out to new subscribers whenever they sign up. This content is timeless, and continues to work for you for months --and maybe even years-- at a time, so that you can reach out to new subscribers with a series of emails without ever having to write a new email.
2. Promoting Events
If your company is planning an event -- maybe a fundraiser -- you know that sometimes this could be its own job. Make your event-planning life easier by automating as much of this process as possible.
You can automate email invitations to your subscribers, set up a web form to collect attendee's information, publish information to social media, and take RSVPs in the form of a ticket purchase all in one place. You can even automate event reminder emails to eliminate the fear of no-show guests.
3. When Your Customer Leaves Items Sitting in Their Cart
Do you have an online store? Studies show that almost 70% of customers leave items sitting in their carts. Maybe a customer clicked on a link in an email marketing campaign you sent out (which can also be automated). Maybe they changed their mind, or got distracted, but this is not the time to give up.
You can automate your email marketing to help negate cart abandonment by reminding customers of the items left in their cart with an abandoned cart email. You can set a reminder to go out 30 minutes later, or even in a few days.
4. Content Promotion and Content Scheduling
While you should write your own posts (which we will talk about a little bit later), you shouldn't have to write them and publish them and promote them too. Writing, editing, and planning your blog is enough work all on its own.
How can you make this process simpler for you?
You can automate your posts to publish on a certain date
You can automate email notifications to your subscribers whenever a new post is published
You can automatically publish your new post to your social media accounts.
You can easily automate blog publishing in WordPress, and you can send emails to your subscribers in HubSpot with only a few extra steps.
5. Scheduling Social Media Posts
You can save yourself a lot of time by using a platform to post your social media content exactly when you want to. You can use a social media scheduler (like one of these) to release the posts you've generated at a specific time and date, saving you the time of having to post regularly.
66% of consumers say that they like or follow a brand on Facebook. It's an excellent place to reach new leads, and stay at the forefront of your customers' minds. But you can automate this process so that you don't have to log on and post.
When Not to Automate: Engagement
It's important that you connect with your customers when they reach out to you. And when someone posts a comment or asks a question on social media, you are the one that needs to be able to respond to them.
There's a time and a place for live chat, but many times, your customers need to speak to an actual human. Don't replace actual responses from someone on your team with live chat outright. Live chat should be used to supplement the work that you do to connect with customers online and on social media.
It's much easier for a human to solve your customer's problems that it would be for a bot to do so. You'll make connections with customers and engage with them when you respond directly to them on social media and beyond.
When Not to Automate: Content
Your content has to be an authentic reflection of your brand. Your blog, your marketing emails, and your online content should all come from your company's unique perspective. It's how you communicate your values and your mission with your online visitors. This means that you can't automate your content.
Of course, you can schedule your blog posts to be published-- that can make your life a lot easier, but the actual content that gets published needs to come from you. Think about dealing with an automated call-- is it the same as being on the phone with a living, breathing human being? No. Your content will have a much more personal feel to it if you write it yourself.
It's important to have fresh, new content on a regular basis. But this content should come from you; it shouldn't be automated or generated in any way. Take the time to write your posts with your own perspective; it will make all the difference.
Automation is a perfect way to take things off of your to-do list every day so you can focus on running your business and making connections with customers. It's removing the mundane, easy stuff you might have to slog through each day so that you have more "brain space" to tackle the things that require your time and talent.
---
I empower businesses and marketers to create automated content systems that elevate sales and delight customers. Here's how it works.
Also, heads up, I may receive commission on purchases made through links on this page.