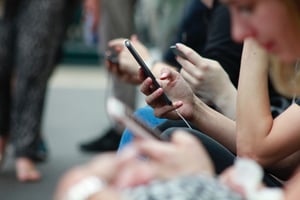 So many companies have started to implement live chat features on their websites— it's a trend that cannot be ignored. Especially since it has such a high rate of popularity among consumers.
In fact, 92% of customers feel satisfied when they used a live chat feature, compared with 88% satisfaction when speaking voice-to-voice, 85% when using email or a web form, and even less when using social media like Facebook (84%) and Twitter (77%).
Despite this popularity, there are many companies who have yet to include a live chat feature on their website. They may have (false) preconceived notions about live chats— that they are only a way to generate leads and nothing else. They're not reliable or personable.
However, with rapidly-improving technology and better training for live chat staff, this is becoming less and less true. Live chat features have made dramatic improvements. Today, they are a great way to get your customers in contact with your company, no matter the time or location.
So why should you use live chat on your website? What are the perks and benefits both you and your clients will enjoy?
Free Up Your Valuable Time
If you're running a company and a website, you don't have time to spend answering hundreds of emails or phone with simple questions each and every day. One quick and easy way to free up much of your valuable time is to employ a live chat feature so that these questions get answered in a timely fashion. Visitors to your webpage are happier because they get a quick response to their question, and you have satisfied, informed customers AND a shorter to-do list.
Another perk of many live chat services is that you are able to direct a live chat to the best person who can answer each specific question. There is less time wasted bouncing customer question from employee to employee, because you are able to send questions directly to the person who can best answer the question. This is because many chat hosts offer customizable routing options, which means that questions are sent to the best person to answer the question at the first point of contact.
Reduced Expenses
It's estimated that using a live chat feature for customer service is 17-30% cheaper than customer service via a phone call. This is because your employees are able to multitask, and with training, can handle 3 or more chats simultaneously.
Chat concurrency, available with live chat hosts like Comm 100, means that your live chat agents are able to help multiple clients at once— usually in less time than it would take for just one phone call. Interactions then are shorter and more efficient, allowing your agents to help more people, more quickly, saving you time and money.
Increased Customer Loyalty
One of the reasons many customers like live chat features is that they are typically able to get an answer to their question right away. Because of this, visitors to your website are much more likely to become satisfied customers. 82% of consumers want an immediate response to their marketing or sales question and this figure climbs to 90% when the question is about sales.
If they can get an answer without having to pick up a phone or send an email, visitors to your website become paying customers, and even repeat customers, because they know they can get the help they need right away from your live chat feature. Of course, your customers can pick up a phone or send an email when they have a question, but with each passing second of waiting for a response, they become less and less likely to purchase anything from your website.
Another reason live chats increase customer loyalty? With consistent chat routing, your clients are more likely to receive the answer they are looking for during their first interaction with your company. Your team comes across as knowledgeable and helpful, and your clients build trust in your brand, creating loyal customers.
Increased Sales
The bottom line? When using a live chat feature, your customers are 3 to 5 times more likely to make a purchase than if they did not use the feature. In fact, live chats have been known to have up to a 6,000% return-on-investment. Live chats increase your chance of converting leads into paying customers, as customers who use the live chat feature are three times more likely to purchase something than those who don't use live chat.
Live chats are also a great opportunity to upsell, or cross-sell. Your agents are able to discover exactly what it is that your customers truly want and help them find it. Your customers are happier with a purchase that is more suited to their needs, and when your customers win, you win.
With a live chat feature, you save time and money, and convert more website visitors into satisfied and loyal customers. It's a win-win-win for you, and it demonstrates to your potential clients that you care about their questions and concerns, and want to get them the help they need right away. What could be better than that?
---
I empower businesses and marketers to create automated content systems that elevate sales and delight customers. Here's how it works.
Also, heads up, I may receive commission on purchases made through links on this page.