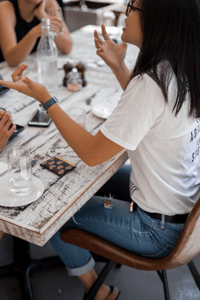 Your website, and in general, your brand, needs to come from a specific perspective— in otherwords, it needs to have a consistent voice. This is where tone becomes important. It's an expression of your company's values, and so for many, your website is the first place they will encounter your tone of voice.
Your tone cannot be manufactured or pasted on top of who your company is, or why you started your brand in the first place, because it will read as inauthentic and disingenuous; like a marketing ploy instead of a true reflection of you.
Why is Tone Important?
So why does your company need to decide on a specific tone? What can tone do for you? Tone can make you stand out from the crowd and gain new customers. It sets the expectation for what it will be like to work with your company. Consider this famous quote from Maya Angelou:
"I've learned that people will forget what you said, people will forget what you did, but people will never forget how you made them feel."
Whether you want to establish professionalism and trust in your company with formal language or leave prospective customers with a sense of familiarity and friendliness thanks to a more relaxed vibe, the tone of your website is a major way to impact how visitors to your website will feel. It's an important opportunity to set the expectations for what it will be like to work with your company.
Your Values
The best way to determine the tone of your brand and your website is to take it back to your values. Why did you start your company in the first place? Once you nail this idea down, so much of what your tone should be falls easily into place.
Aaronn Walter, author of Designing for Emotion,says it best: "In order to engage your audience emotionally, you must let your brand's personality show." The key words here? "Your Brand." Just as storytelling has a lot to do with your inbound strategy, your tone is big part of your unique storytelling.
Here's an example: Bird, a company whose popular shareable electric scooters are set up in many large cities, clearly outlines their values on their Impact page. On this page, it lays out Bird's goals for a more eco-friendly, sustainable way to travel, with less traffic, cleaner air, and safer streets. The language on their site stresses the global need for sustainability, and the big impact riders can make, just by hopping on a scooter. It's inspirational.
While scooters are obviously a fun, whimsical way to travel short distances within your city, Bird aligns the values of their copy with its goals for a safer, more environmentally sound way to travel rather than relying on humor or fantastical language just because it's trendy.
In this way, it engages prospective customers, making them partners in the solution of sustainable travel. Did they do this because they knew that millennials are more engaged with socially conscious companies? No. They did it because it rings true to their own personal values.
If your company's personal values are to create trustworthy relationships between your financial planners and their clients in order to better create personalized retirement plans, your language might still be personal, but more formal than a scooter ride-sharing company.
Vocabulary and Vernacular
The next step to creating a personal tone is determining how your vocabulary, grammar, and word choice should be affected by your company's values. Depending on your company's values, you may be able to let go of some of the more dated rules of grammar if it sounds too formal or stiff. That doesn't mean you shouldn't proofread and carefully check for errors— it just means that if a grammar rule feels too stuffy for your value, you can consciously let go of it.
One rule you might happily break? The who/whom rule. Sure, you may check all the boxes and make your high school English teacher happy when you use "whom" correctly, but if that technically correct word awkwardly stands out from the rest of the copy on your website, feel free to let proper grammar go to better match your overall tone.
Other things to be aware when writing the copy for your website are the following considerations:
Whether slang fits into your company's values and text
If colloquialisms have a place in the text
Inclusion (or not) of humor
How formal or informal the tone should be
How important proper punctuation is
Who you are engaging
The most important thing here is to find what best fits your values, then stick with it. If colloquialisms don't fit with the formality of your company, then you don't need to include them in any part of your website. Feel free to let that go.
Taking the time to really think through the tone of your website— and your brand— can make all the difference in presenting the most authentic version of your company. Today, authenticity can make all the difference in setting you apart from the competition and creating lifelong customers. With a consistent, specific tone, your website can be the best representation of you that there is.
---
I empower businesses and marketers to create automated content systems that elevate sales and delight customers. Here's how it works.
Also, heads up, I may receive commission on purchases made through links on this page.