Congratulations! Another week is over and you've just published a sterling article.
So now you're heading into the weekend full of excitement knowing you're getting a lot of readers and Facebook shares.
But let's be honest, deep inside something's bothering you.
I'm talking about "writer's block" or what I fondly call the "blank screen" syndrome. You think you've already exhausted all the topics you could write about your niche.
So now you're concerned.
You. Don't. Know. What. To. Write. Next.
You know that you need a strategy. A doable blueprint which takes the guesswork out of the picture.
A simple step that you can use regularly so you can have topics that aren't just fillers … but meaty, juicy posts your prospects and customers will enjoy and keep looking for more.
By now you're thinking:
"How could I produce a constant flow of ideas so I don't have to go through each week staring at the blank screen, confused, overwhelmed and frustrated?"
It's great that you asked.
Now, let me show you my strategy.
By the time you finish this article, you would be able to come up with at least 10 ideas that can fill your calendar until next month.
That way, you don't have to suffer from the "blank screen" syndrome or writer's block week after week.
Pick a Quarterly Theme
Once a quarter (before it ends) I think of a theme or overall idea for the next quarter.
This theme should be something that speaks well to my prospects. For example, last quarter (July - September) was all about inbound marketing.
I filled my calendar with topics about buyer personas, how to keep sales and marketing on the same page, transitioning from traditional to inbound marketing and squeezing expert knowledge out of coworkers.
So instead of discussing a broad, general topic in a single article, my team and I divide it into smaller sub-topics.
Gather Intel
Based on the quarterly theme, I look at the related questions I've collected from prospects or clients. Additionally, I search on Google for common keywords around my quarterly theme.
These questions form the base for the blog topics for the next few months.
In my case, I just Googled "inbound marketing questions" to come up with specific topics: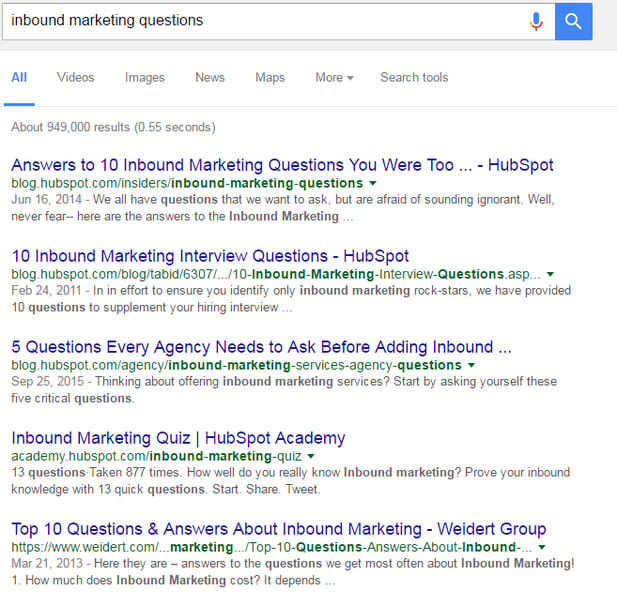 You can also use the following search phrases:
Keyword/topic + [FAQs]
Keyword/topic + [Reviews]
Keyword/topic + [Quotes]
Keyword/topic + [Secrets]
Keyword/topic + [Mistakes]
Besides Google, I also use Ubersuggest to build a list of related keywords.
Using the keyword "inbound marketing", I got at least 12 topics – good enough to fill up my calendar.
Here are 5 examples from my research:
Inbound marketing activities
Inbound marketing and outbound marketing
Inbound marketing best practices
Inbound marketing checklist
Inbound marketing diagram
Using Ubersuggest is beyond the scope of this article. To learn more, please check out this short video on how to use Ubersuggest.
Long-Form Content Idea
Based on the questions and the keywords, I can come up with an idea for a long form content piece or a new offer.
These offers could be an eBook or a white paper.
Every piece of content depends on where my prospects currently belong (click these links to learn more: Awareness Stage, Consideration Stage, and Decision Stage).
Afterwards, I break up the offer into separate ideas for blog posts or base them on the keywords of previous blog posts.
That way, there will be a smooth transition between certain topics.
It's like publishing a book one book chapter at a time!
For example, let's say you're a small business consultant. You'd like to write a guide on how to work with a consultant, and for this example, you laid out 10 steps.
You could write everything and publish a 3,000-word article.
Or, you can write a separate article for each step so you can explain each one better.
Now you have at least 10 articles for the next couple of weeks.
Bonus Tips
While researching this topic, I came across 3 helpful tips that can drastically cut your brainstorming session to almost half.
Here they are:
Doing stuff that other people are scared to do (Groove HQ's Alex Turnbull) - Be courageous. Jump out of your comfort zone and see how far creativity can take you.
Think Visual (Stacey Roberts for ProBlogger) - Remember, people -- and search engines -- love video. So instead of focusing on articles, why not publish a weekly video tutorial?
Use popular content as inspiration (Elna Cain for Blogging Wizard) - Why do all the hard work when you can simply search for trending content and ride on their popularity?
Did I miss something?
Let me know in the comments below.
I help business owners and marketing professionals build powerful, automated content systems, which increase sales and boost customer happiness. Here's how it works.