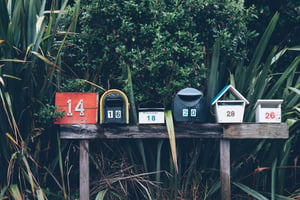 Email marketing has made huge strides forward, just in the past few years. There are all kinds of bells and whistles you can add to your email campaigns now, like compelling graphics and eye-catching call-to-action buttons. But what's becoming more and more rare with all these new email features? Great copy and captivating text.
No matter how great your emails look, you need the substance to back up the style. Without stellar content, your subscribers will eventually stop opening your emails, and start deleting or ignoring them instead.
So, what does that mean for you? What kind of content should you include to keep your audiences opening -and reading- your emails? Here are some considerations to craft emails that get your company noticed.
Write the Right Subject Line
One of the most important things you can do to get your emails read? Compose a subject line that grabs your recipient's attention- without seeming like spam. A great subject line is like the doorman for your email: No one will get to read your spectacular, well-crafted email copy if the subject line doesn't grab their attention and invite them in.
There are lots of articles about how to write a compelling subject line, and much has been written about what will make your recipient click and open your email, but here are the main points to consider:
Actionable Language
Your subject line should prompt your reader to open the email; it's like an invitation to "take action" in some way. The key here? It's an invitation, not an order.
For example, if you have a big sale coming up, "Don't miss our biggest sale yet" not only informs your reader about your sale, but it's an actionable invitation to take advantage of the sale, AND creates a sense of urgency: It says, "This sale takes place for a limited time! Check it out before it ends!"
Personalize It
You can get your recipient's attention by appealing to their personal interests. Including their name, location, a birthday or anniversary greeting, or a promotion relevant to their hobbies increases your chances of getting noticed by your audience. If you've been collecting customer data, you can use this information to reach your target demographic with personalization. You're connecting their interests to your business and proving you know how to meet their needs.
A personalized subject line with the recipient's name has a 29% higher open rate, and a 41% click-through rate, so this simple step can make a major difference in the effectiveness of your marketing emails. You can't underestimate the power of personalization in your emails.
Concise Over Catchy
When composing a subject line, your first goal is to make it brief, but informative. You may get excited about including fun wordplay or captivating rhetoric, but first and foremost, your subject line should be concise and clear. Then and only then, you can spice it up a little bit.
Of course, you want your reader's attention, but you also need to be sure that your subject line is informative. Just like you would never want to sacrifice content for style in the body copy of your email, you don't want to sacrifice content in your subject line - while still keeping it brief.
The Body of Your Email
Once you've created your subject line, you will want to ensure it aligns with the body of your email. You've drafted a compelling, eye-catching, concise subject line and now it's time to write the email to match. Here's what you need to know about creating a marketing email that will really work for you:
Focus on the Benefits
Sure, you want to educate your reader about your promotion or sale, but your readers aren't just looking for a good deal, they want to know why they should invest in your company. You know the value of your email, but your audience doesn't - yet.
Many marketing emails only explain the feature or promotion they are offering and not the value behind it. What makes your product and your services valuable to your audience? What sets your product apart? If you focus more on what makes your company (or your services) special, you will establish the need for your audience to work with your business.
Write in the Second Person
Why are you emailing your reader? Within the first few sentences of your email, you want to let them know that you aren't just emailing them for the sake of emailing them. The copy of your email should relate directly to your reader.
Just like I've been doing in this article to you, you want to address your email directly to your reader and write in the second person as much as possible. This adds to its relevance, but also focuses on your customer, instead of focusing on your brand.
When you write in the second person, it makes it relevant to them, but it's also easier for your reader to see themselves in your offer. It's relaxed, it's personal, and it solidifies your relationship with each individual reader.
Keep It Short
Your readers are busy. Sure, you have tons of knowledge and lots of useful information you can share with your audience via email, but your readers just don't have the time - save the dense, text-rich copy for your blog instead. You can even link to your blog with a powerful call-to-action in the text of your email to share this valuable information with your audience.
On average, office workers receive 200 or more emails each day and have to spend at least 2.5 hours reading and responding to emails. Don't add to their burden with lengthy copy that will take them several minutes to read.
Instead, keep it brief! Your reader will appreciate you giving them all the relevant information delivered in a concise package, saving them valuable time.
Think About Your Tone
By now, you've probably spent time establishing your company's online tone of voice. Your marketing emails are a great opportunity to continue establishing your online personality, so give yourself permission to make your emails fun, impassioned, or heartfelt. - whatever it is that matches your company's tone.
Do you have a great story to share with your audience? An anecdote from a business interaction that is particularly inspiring? Whatever it is that makes your business unique, that's what should go into your email.
Infuse a dash of your business's personality into your marketing emails, and not only will it capture the attention of your reader, but it will also make your interactions with your customers authentic.
Whatever it is you choose to include in your marketing email campaign, know that in today's world, little matters more to your audience than authenticity. So if it feels right, make it fun, but also make it authentic to your brand.
That's what will make your email (and your company) memorable. And if that means you want to include a few puns or some clever wordplay in your email? Go for it.
At the end of the day, trust yourself. You know you have great content to share, so allow yourself to share it. Your marketing emails are an opportunity to share authentic content about your business with an audience who has already expressed interest in your brand.
If your email marketing content is true to your company's persona, brand, and mission? Your emails will ring true with your readers, and your marketing campaign will capture the attention you're seeking.
---
I empower businesses and marketers to create automated content systems that elevate sales and delight customers. Here's how it works.
Also, heads up, I may receive commission on purchases made through links on this page.