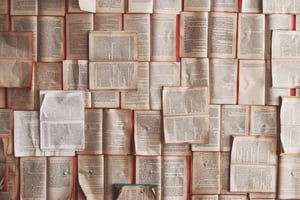 You've probably heard or read that long form content optimizes search results and gets your website more traffic. These long form articles rank well and can indeed help you convert website visits into real business, but just as valuable as these long articles are shorter, more concise articles that grab the attention of your readers with lots of information and a much lower word count.
Why You Need Shorter Content Too
Of course there's room for the occasional long-form blog post, but there's no need to overdo it with every single post you write.
Think of it this way: With mobile phones constantly in our hands, we are so used to having answers as quickly as possible. There are so many reasons that shorter content can be just as impactful as longer posts:
Shorter attention spans from mobile readers
80% of all time spent on social media is via mobile phone
On an average visit to a webpage, each person will read between 20-28% of the words on the page.
Blogging is vital to inbound marketing, but a short, well-worded blog can have just as much of an impact as a longer, wordier post.
Eye-Catching Content is Everything
The important thing to remember about shorter content is that you can have just as much impact as you might with a longer post, so long as your information is represented in an unforgettable way.
A strong title and great visuals are sometimes all you need to get people's attention. Think of websites like Upworthy that generate millions of views; each title is attention-grabbing and is usually paired with strong visuals.
A Memorable Title: Start with an eye-catching title. Frequently, when people bring up an article they've read, it's because they remember a punchy title. Specific wording, numbers, and a sense of urgency will all help to make your title quoteworthy. The wording of your title should make the content seem useful and necessary to read.
(Here's a great tool to discover how strong your title is!)
Visuals: Adding an image to your post can make it appear more truthful to your readers. Generally, readers observe a picture first, then read the title, then they will go back and read the content. Great visuals will keep readers' attention and give your website more credibility. Newspapers are great at this: If you think of your page like a page in the newspaper, you have a great guideline to think about adding visuals to your post.
Make Your Content Easy to Consume
Remember how visitors to your page will read between 20 and 28% of your content? The more complex your writing is, the less likely they are to read more. Keep is simple. You've caught their focus with an attention-grabbing headline and strong graphic, now you have to work to keep it.
Short introductions are one way to keep people's attention. Start with a strong fact or a memorable anecdote, then go ahead and move on to the body of your post. You want your post to evoke curiosity and pique interest in your topic, but you don't need to overwhelm readers with information.
Another great way to keep your readers' attention? With short paragraphs. In a post, paragraphs don't need to be more than 2-3 sentences long. Breaking up information into smaller parcels like this makes it easier to read and digest. The page seems less intimidating, and the information seems less dense.
Try using the Hemingway Test tool, which highlights sentences and passages that are too long and too wordy. Then edit down what you've got until you have a more potent, more brief version of what you want to say.
Write for a Friendly Audience
One of the easiest ways to keep information clear and concise is to write like you are writing to a friend. It's a great way to maintain a friendly tone, without letting the language get too formal or wordy.
Writing "for a friend" makes your content easy to read, approachable, and engaging, and it's a great way to draw people in. Another way to write for a friendly audience? By appealing to their emotions.
Posts with emotional headlines and content have been proven to captivate readers and get more shares than more clinical articles. Once you know the desired outcome of your post (presumably, to engage with your company), you can begin using powerful emotional words to persuade and appeal to your friendly audience and get more readers connected to your work.
The bottom line? Sometimes less really is more. Don't underestimate the power of a short, well-worded blog. There are times where there is power in numbers, but having a concise, potent post can sometimes make an even bigger impact than a longer one. Trust your reader, keep it simple, and you'll end up with a short, captivating post that will grab attention and engage your audience.
---
I empower businesses and marketers to create automated content systems that elevate sales and delight customers. Here's how it works.
Also, heads up, I may receive commission on purchases made through links on this page.