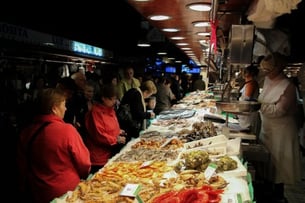 Yes, as in right now.
Whether you're running a million-dollar company or starting a small project with your buddies, these tasks can and will work for you if you apply them.
Why am I so confident to say that they'll work for you?
Well, I've seen my clients do these marketing tasks and achieve incredible results doing so. I've even had the chance to work on some of their marketing campaigns.
Without mentioning names, you know companies that run like well-oiled money making machines. Likewise, you've seen companies who are floundering and gasping for air, not knowing where the next sale will come.
In both cases, the outcome rests on their investment in serious, deliberate marketing activities.
Before I give you my top 15 marketing tasks, I'd like to share with you one of the best successful copies in the history of advertising: The Wall Street Journal's "Two Young Men" sales letter.
The copy is about the story of two men who attended their 25th college reunion. The story says that both men had gone to work for the same company. The first guy became a manager of a small department while the other one turned out to be the company's president. The sales letter pointed out that the difference wasn't education since both graduated from the same school. The difference lied in the business knowledge the would-be president had applied to his job.
Let me ask you these questions:
What edge do you have that your competitors lack?
Is this "edge" enough to tip the balance in your favor?
What actions are you doing TODAY to secure your leadership in a niche crammed with competitors bent on snatching the position you're holding with dear life?
In my years working with companies, big and small, marketing proves to be one of the biggest reasons for success. It is the "edge", the key, and the answer to your concerns:
Where do I get my next sale?
How do I build an authority in an industry filled with self-proclaimed "gurus"?
What's my strategy so I can set my business apart from the competition… for good?
Are you ready?
Here's my list.
15 Marketing Tasks
Participate in marketing training and events
President Lincoln said it best:
"Give me six hours to chop down a tree and I will spend the first four sharpening the axe."
When was the last time you've attended a training, let alone apply the lessons you've learned?
Signing up for a marketing course allows you to take advantage of proven lessons that have made hundreds of companies rich. Now you'll have the skill and the idea necessary to model (if not duplicate) your business' marketing strategy with the big boys. Training allows you to get the same results successful businesses are enjoying right now.
Helpful resources:
---
Conduct sales and marketing training for your staff
It doesn't matter if your marketing plan is top notch. At the end of the day, it's your team who'll do the leg work. And your business won't bring sales unless you arm your team with the skills and marketing savvy to get the job done. This is why some companies select skilled individuals to undergo special programs designed to reach their sales targets.
The future of your company lies in the quality of your team. It's time you develop a special program to help them carry out your short-term and long-term marketing goals.
Helpful resources:
---
Network
Being busy isn't an excuse not to attend a networking event. Networking (in person!) allows you to meet potential partners, distributors, influencers, suppliers and customers. It will also help you to get the latest buzz around your industry or uncover brewing issues that may affect the way you run your business. You rekindle alliances with friends and mentors and form new relationships with budding superstars. Networking even gives you access to the industry's best kept secrets or advice not available online. Being a savvy networker can help you get more referrals to other professionals, leading to potential clients.
Helpful resources:
---
Conducting a marketing audit
According to Marketing Teacher:
"The marketing audit is a fundamental part of the marketing planning process. It is conducted not only at the beginning of the process, but also at a series of points during the implementation of the plan. The marketing audit considers both internal and external influences on marketing planning, as well as a review of the plan itself."
Simply put, marketing audit allows you to:
Reinforce your belief to your products or services
Keep you on track with your marketing goals
Spot any weaknesses and strengths so you can come up with a better game plan to move your brand forward
Manage your resources better by uncovering activities that don't add value to your marketing efforts
Compare your performance against your existing and upcoming competitors
Helpful resources:
---
Develop an editorial calendar
Content marketing is the new marketing.
It lets your audience come to you instead of you going after them. You make this happen this happen by sharing valuable contents such as:
Podcasts
Articles
Newsletters
Infographics
Webinars
To manage this content, you need an editorial calendar – a listing that enables you to publish your materials across various channels (e.g. Publications, blogs, social media and video streaming sites).
By developing an editorial calendar, you'll find your content marketing activities more organized and easier to track. You can specialize your campaigns depending on the time of the day so you can attract a particular segment of your market. Or you can give priority to a more popular article to drive more attention to your campaigns.
Making yourself the leading resource of information in your industry is important. In fact, the future of your company lies on how knowledgeable you are about the industry you're serving; just like what Gartner Group had found out.
Helpful resources:
---
Getting in touch with your customers in social media
Your customers are becoming more social.
Pinterest, Facebook, Twitter, Instagram, Google+, Instagram, Foursquare, YouTube and LinkedIn. The list goes on and on.
Being visible on these platforms shows that you are putting the effort in knowing your customers better. It gives a more personal touch, especially if your team promptly responds to their queries and feedback. Getting in touch with your customers makes them feel your presence as a living, genuine person ready to be of service to them.
Helpful resources:
---
Running a contest to promote your product or business
Running a contest is a sure way to create brand awareness, build a following and give incentives to loyal customers. Not only that, it helps create a buzz around your product as fans spread the word about your campaign on their social circle.
Helpful resources:
---
Analyzing Google analytics
Once you've launched your site, it's important to watch how your customers interact with it. In doing so, you can tailor your marketing campaigns on their behaviors, goals and demographics.
Not only that, tracking Google analytics helps you decide whether your campaign is a win or a dud because you can gauge your conversion and the volume of visits in a given period.
Helpful resources:
---
Updating your sales copy
Were there changes in the pricing or payment plans? Have you made major improvements on your products? Have you implemented the findings of your last split testing?
Keeping your content fresh and relevant is a mark of a professional marketer. It prevents your customers from getting confused and doubt your credibility.
Remember, a simple error in your copy has a serious impact on how people perceive your company. Take care of your reputation at all cost.
Helpful resources:
---
Writing and distributing email newsletters
"Email newsletters are the best way to maintain customer relationships on the Internet."
- Jakob Nielsen, Internet Guru
And why not?
It's one of the most important means of communication in the modern era. Every day people conduct business and socialize through emails. Even experts estimated that over 139.4 billion emails will exchange hands per day. That's why it's important that your business takes advantage of email newsletters. Especially when you find out that at least 91% of consumers check their email every day.
Think about all the benefits you'll get when you take email newsletters seriously:
Helpful resources:
---
Producing video content
Did you know that audiences are 10 times more likely to engage, embed and share your video compared with your blog posts?
What does it mean to your marketing?
It means, producing video is the best way to customer awareness, conversion and retention. Whether you're doing online or offline marketing, producing videos should always be a top priority.
Why?
Because 73% of consumers are more likely to buy after watching a sales video.
It does help that you seek video production services. But what if you don't have the resources to do so? Fortunately, there are ready-made video production templates and software products at your disposal.
Helpful resources:
---
Designing, writing and running ads
Tell me the first brand that comes to your mind given the following items:
Fastfood
Shoes
Car
Coffee
Credit card
Done?
Here's mine:
McDonald's
Nike
Ford
Starbucks
VISA
McDonald's may not have the best burger in town. Starbucks may not have the best tasting coffee. But what they've got are effective campaigns that enabled them to be "THE BRAND" on their customers' mind. Ellis Verdi, once president of the National Retail Advertisers Council in the US, coined the term "Top-of-mind awareness" or TOMA.
According to Marketing Research.org, TOMA is:
"A measure of how readily a brand name or concept comes to respondent's minds. It is the first answer to questions such as unaided brand awareness. The initial mentioning of a brand, product, vendor name, services, and so forth."
You may not have a million dollar budget to springboard your business on top of your customers' list. But it's not an excuse to forget about advertising altogether. You can take advantage of affordable ad spaces on Facebook, StumbleUpon, Reddit and Google AdWords for $5 to $50 a day (or less). You can also rely on tried-and-tested flyers for a more personalized approach.
Helpful resources:
---
Gain publicity through press release
A press release is a short article that your company distributes among bloggers, consumers and journalists. The main purpose of a press release is to gain exposure about recent company events like product releases, acquisitions, expansions and more.
Using press releases to amp up your marketing campaign will bring benefits not found in previous tasks I mentioned before:
Increased credibility by leveraging reputable news agencies
Economical compared to paid advertising
Improved SEO ranking
Sends fresh traffic from ideal niche(s)
Boost your visibility
Wider distribution means you can reach uncharted market
Attract potential customers and investors
Helpful resources:
---
Website Management
Your website does everything and becomes everything for you:
Your online store
A virtual salesman
Your electronic marketing assistant
Your brochure, newsletter, sales page, lead magnet
Basically, your website is your number 1 marketing asset.
That's the reason why it's vital to take note how well your website performs under various settings. You've got to make sure that it delivers quality service by improving performance, publishing fresh content, fixing broken links and sprucing up your site with elements that best reflect your business goals.
Helpful resources:
---
Improving your Search Engine Rankings
Part of your activity as a marketer is to make sure customers find you on search engines. With loads of competition for 1st-page position, learning how the search engine works and applying these principles are equally important.
First, identify your market's choice of keywords when searching for services such as yours. Then, build your marketing activities around these keywords (E.g. Blog posts, landing page, video, image, page and even your official website). Next, discover opportunities to incorporate these keywords in your web contents so that your business stands out as the leading provider of your customers' needs. Finally, broadcast your content on different channels like article submission websites and local business directories.
Helpful resources:
Yes, it's hard work.
I agree that it's overwhelming.
But what separates rich companies from the poor ones is constant execution and improvement on the marketing front.
The tasks I mentioned are just a few of the basic things you've got to do. Nonetheless, if you make a plan with your team and find a way to apply all the lessons here, you'll be on your way to success.
Did I miss something? Feel free to add to this list in the comments below.
I help business owners and marketing professionals build powerful, automated content systems, which increase sales and boost customer happiness. Here's how it works.