There are not a lot of people who are skilled enough to get C-level executives listen to them and do what they recommend.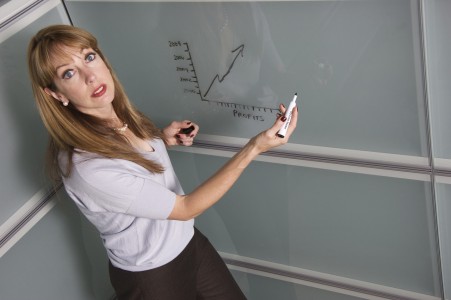 With that in mind, being a consultant also takes a special kind of responsibility—a responsibility to help businesses understand themselves better than they did before.
That means getting into thick of things, gathering valuable data previously untapped and leaving that company better than when you found it.
In this article, I'll share with you a few of the steps I've been faithfully following throughout my consulting career.
These steps allowed me to understand ANY business I work with.
If you're struggling to wrap your head around the concept behind your client's offering, then you can get a few valuable tips in this article to add to your consulting tools.
There are instances when steps 1 to 3 is enough. The idea is to get as much information as possible to help you come up with an actionable recommendation.
The key word is "actionable".
I don't want to leave everything to chance and come away not making an impact on my client's business.
I need results.
By enacting these steps, I can be sure that my proposal is something they can do and replicate on their own.
Familiarizing oneself to client's industry
I've had my fair share of experience working across various industries. I've served clients in finance, sports, travel, healthcare, education and more. The first thing I do before a client call is to read every pertinent bit of news I can lay my eyes on.
I look for the most pressing problems this particular industry is dealing with. I check news feeds for personalities and thought leaders who have something to say about a specific issue.
I visit forums, online communities and read comments on blogs. I look for 5 trending topics on their industry and study them as well. (Note: Ithaca College Library has a dedicated section on how to research an industry. Check it out.)
Thus, I can equip myself with enough information to fully understand where my client is coming from.
No more second guessing.
No more amateur questions like: "So, could you tell me more about your business?"
Initial data gathering through questionnaires
Each consultant has one.
I do.
And it helps me focus on what my client's business is going through right now.
Whenever I get the chance to meet my client, my initial questions lead me to a more in-depth knowledge about their business.
Such questions listed below leads me to a specific path on how to move our conversation from theoretical to actual application:
"There are issues affecting your industry right now. Which of these concern you most?"

"If there's one strategy that you would have done in the past to avoid this problem, what would it be and why?"
"What is your most immediate concern right now?"
During our initial meeting, I never fail to ask information about key players involved on this project.
Securing an appointment with these important figures should help me in understanding their requirements and nature of business.
But there's one particular question that you should ask your clients that can make your work cut out for you:
"What made you decide to hire me?"
Let me explain in the next step.
By the way, if you've found this content useful, you can subscribe to get new posts via email.
Knowing Your Purpose
Consultants wear many hats.
They could be an advisor, an implementer or an educator.
The role they play depends on what clients need from them.
A Harvard Business Review article entitled, "Consulting Is More Than Giving Advice" give us the hierarchy of consulting purposes namely:
Providing information to a client.
Solving a client's problems.
Making a diagnosis which may necessitate a redefinition of the problem.
Making recommendations based on the diagnosis.
Assisting with implementation of recommended solutions.
Building a consensus and commitment around the corrective
Facilitating client learning - that is, teaching clients how to resolve similar problems in the future.
Permanently improving organizational effectiveness.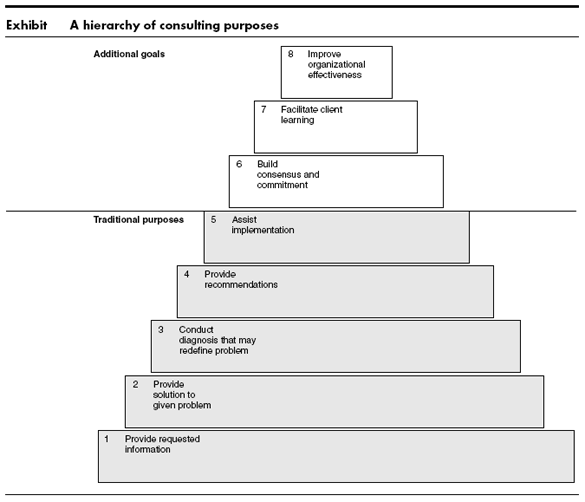 According to the article, "… reputable consultants do not usually try to prolong engagements or enlarge their scope. Whenever on the pyramid the relationship starts, the outsider's first job is to address the purpose the client requests. As the need arises, both parties may agree to move to other goals."
Once you learned everything about your client's industry, the first order of the day is to define your role.
This is important because you want to keep everything in line with your and your client's objectives. It also keeps everybody's resources focused on one specific goal, completing more deliverables in less time.
Becoming a generalist defeats the purpose of getting a consultant in the first place.
Your course of action should be in harmony with what your role is asking from you.
For instance, if my client hired me to map out a buyer's journey, my only concern – for now – is understanding their sales cycle.
Becoming a customer
You can't understand a business unless you decide to be on the receiving end of its services: a customer.
n our example, my client hasn't mapped out their buyer's journey. My role is that of an implementer.
I will ask for someone from their sales team to explain their sales cycle to the extent that I simulate their buying process.
During the course of our transaction, I'll go through each buying stage; while taking notes as I go along.
It won't take long before I find issues that need to be fixed. And have a sense for what will work for the ideal customer.
In some cases, I ask my client to name 3 to 5 competitors.
Then, I'll sign-up on their competitor's mailing list to see how their sales cycle works.
I note key features that I like as well as areas in need of improvement. By doing so, I will have a complete picture on how to formulate a good implementation plan.
Is this enough?
Well, in some cases it is. But the more information I have, the more confident I am in dealing with my clients.
And so the 5th and final step is reaching out to previous and present customers.
Interviewing past and present customers
My personal experience with my client's product should be enough to warrant a rock-solid recommendation.
However, I'd like to know how other customers perceive my client.
The following questions allow me to build objective findings of my client's business; without which, my recommendation lacks an extra punch to move our project forward.
Here are some questions I ask their customers:
What companies have you considered before finally purchasing from us?

What made you choose my client over other business in the market?
(For previous customers) What made you decide to switch from my client to another provider? How can we win you back?
(For current customers) What keeps your loyalty? What would make you switch from us to our competitor?
Final Words
Steve Jobs once said:
"Get closer than ever to your customers. So close that you tell them what they need before they realize it themselves."
It's my inspiration in making sure all my actions are geared towards understanding my customer's needs – whether it's education, information or implementation.
Today, my challenge to you is to go beyond what's obvious and wear your detective hat. Impress your clients by demonstrating your knowledge about their business … more than they're capable of having.
I help business owners and marketing professionals build powerful, automated content systems, which increase sales and boost customer happiness. Here's how it works.