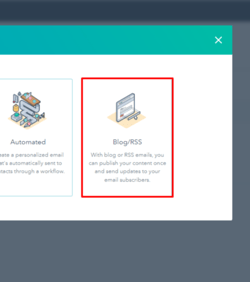 One of the easiest ways to get new leads into your CRM is by offering them a way to subscribe to your blog. If you're regularly posting informational and educational content that answers your ideal customer's questions, then chances are they will want to read new posts you publish.
Setting up this system is pretty straightforward, and it's wicked easy in HubSpot. With your blog posts published on HubSpot's CMS, all the data needed to send to leads are ready to be added to any email template.
You first want to tidy up an email template, so it's geared not for those already in the sales process or other marketing information but for those at the beginning of learning about your business.
This means instead of including a call to action for free demos and contacting sales, include links to related blog posts or about the company.
Once that's done, create a new email and select Blog/RSS, select the HubSpot blog to pull data from and how frequently you want to send, or create different emails for each frequency since you can have leads choose how often they want the emails.
Next, edit the email body to include automated content, like blog post title, featured image, author, summary, etc. I recommend including a Read More link that looks like a CTA or button, which is more likely to be clicked than a regular text link. If you're sending the email instantly or daily, you'll want to change the number of posts per email to 1; otherwise, adjust the other settings as you'd like and hit publish!
The next piece of the puzzle is setting up your blog subscribers. If you're starting from scratch, chances are you'll have 0 on the list HubSpot automatically creates. You can add contacts to the list already in your database since they expect to hear from you.
Finally, the last step is creating your blog subscription form (which was most likely automatically generated) and landing page. Keep this page short and simple, or embed the form in your footer and a prominent place on your homepage. For example, I'm using the dropdown form for new blog subscribers.
And that's it! Now you have a method for capturing new blog subscribers. These leads may also go on to fill out more forms or get in touch, but at the very least, you've started to capture their interest and show them that you're an expert in your field.
I help business owners and marketing professionals build powerful, automated content systems, which increase sales and boost customer happiness. Here's how it works.