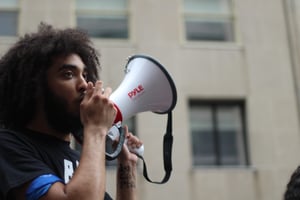 We are constantly inundated with content: on our phones, on our televisions, on our computers. We read thousands of words all day long. It can feel impossible to stand out when we think about how much we actually read and take in on a daily basis.
One way to help make your voice heard is by writing from an authentic place and developing your brand's own unique tone of voice. For example, the content I create for a manufacturing client is totally different in tone and voice than the content I create for my travel industry client.
The language on your website is an opportunity to introduce your leads to who you are as a brand. This is why having a consistent tone of voice matters so much. It's an expression of your company's values.
Think about how many people first will be introduced to your company on your website. Do you want your first introduction to feel generic or personal and brand driven?
I'm a firm believer in finding and using your tone of voice because your tone of voice matters. Here's why.
Our Brains Need Consistency
Your voice and the tone of your content matters. It doesn't just matter because of metrics or marketing strategies—having a consistent tone is easier for our brains to process.
Take the way we hear spoken words, for example. There's one part of our brain that processes the words we are hearing and an entirely separate part of the brain that is processing the tone of voice and what it is trying to convey.
What does this mean for your written content? While most of your readers won't be hearing your content out loud, there's so much that can be conveyed in your writing style and so much that they will absorb based on the voice you use when you write your content.
Think about what a friendly or casual genre of voice conveys versus a more serious voice. A more serious or scholarly voice is perfect to establish credibility, especially in the academic or medical fields. A casual tone of voice is great for those in the entertainment sector.
It's all about finding a voice that's consistent with who your company is. That's the kind of reliability that will be easier for your customers to digest.
By the way, if you find this content useful, you can subscribe to the blog via email.
It Builds Trust
If you use the same authentic tone of voice across your blog, your website, your social media platforms and your marketing emails, then your readers will know that your voice isn't a marketing ploy or a put-on persona. They start to learn who you are instead, and they feel like they can trust you.
This makes you feel familiar and reliable to your customers, which is comforting and puts your customers at ease. Suddenly it's simple for them to choose which company gets their hard-earned dollars—the company that they can trust—and that's something that will attract them to your brand over others they can't get a handle on.
Don't believe me?
Eighty percent of consumers say that the authenticity of content is the most important factor in their decision to follow a particular brand.
And 78 percent of consumers say that companies who generate custom content are more trustworthy than their competitors who put out generic content.
Your customers care about what you have to say, but they also care about how you choose to say it. They don't want a whitewashed, watered-down version of who you are. They want to get to know you. And that's where your voice comes into play.
When they see that they can trust you? They become a customer and a brand ambassador for life.
It Strengthens Your Brand
Your voice is entirely a reflection of the kind of company you are and what you value. This means you can use it to your advantage—but only if it's genuine and real.
You can "weaponize" your authentic voice to help your customers understand what you value but only if it stays true to who you are.
Does your brand have a larger purpose at the core of its mission? A goal to better the world around you? Then a more impassioned, fired-up, "let's-take-on-the-world" tone fits with your mission. You wouldn't benefit from sterile or clinical dialogue. That's not the feeling you had when you started your company.
Why did you decide to go into business? What was the thing that sparked you to start your company, and what is the thing now that propels you out of bed in the morning? That's where your voice is located.
If you infuse your company's values into your writing style, your writing becomes an extension of who you are as a brand. Your brand can build customer awareness, customer loyalty and ultimately, your revenue.
Your blog can be an extension of your brand. And companies that have a blog generate 67 percent more leads per month than their blogless counterparts.
But it isn't just about writing a blog to match your brand.
Your blog is your brand. Just like your marketing emails, your social media posts and any other words that are published on your website. It all matters, and it's all part of your brand.
Are you looking to develop your brand's own unique voice? Check out my post here about how to do that. But more importantly: Let's talk. I'm passionate about helping companies put their authentic selves out there for their customers.
Let me help you transform your content into unique, focused, tone-driven tools to extend a personal invitation to your clients to get to know you better. Who knows what your company will be capable of once you start writing from an authentic place? After all:

"It only takes one voice, at the right pitch, to start an avalanche." —Dianna Hardy
---
I empower businesses and marketers to create automated content systems that elevate sales and delight customers. Here's how it works.
Also, heads up, I may receive commission on purchases made through links on this page.