When was the last time you visited a restaurant at a recommendation from a friend?
How often have you booked a flight with an airline that has 1,000+ positive Twitter reviews and counting?
Or how about the time when you found yourself writing a quick, positive review because the service rep was easy to deal with and treated you like royalty?
I hope you get the picture, because telling your prospects that you're the best isn't enough.
You have to show it. You have to prove it.
[bctt tweet="Telling your prospects that you're the best isn't enough. You have to show it."]
That's why getting good customer reviews is key to an effective marketing campaign. In fact, several studies prove that customer feedback has a huge impact on business. A Nielsen study shows that 92% of consumers trust word-of-mouth and recommendations from friends and family more than any other form of advertising. In a separate survey, Dimensional Research found that respondents ranked customer service as the #1 factor impacting vendor trust.
So how can you leverage good customer service to win more clients?
I've got 5 ways to do that and I encourage you to examine each one. Figure out how to use these tips to improve your service, develop more products, and bring in more customers.
But before we proceed, here's a quick reminder: Ask permission first. Inform customers that you're using their testimonials as marketing material. Alternatively, you could write on their behalf and have them approve the copy. The last thing you want is the FTC getting hot on your trail for writing bogus testimonials. It's best to consult the authorities first and abide by the rules.
(Quick note: Here's the updated FTC Guidance on Endorsements and Testimonials in Social Media. You can also check this set of rules from the U.S. SBA.)
Let's proceed.
#1 - Displaying testimonials on your homepage
Neil Patel included homepages as one of the most important pages on a website.
In fact, it's a valuable piece of real estate since more visitors check the homepage than any other part of a site.
Displaying testimonials on a homepage answers most of the nagging questions like:
"Is this for me?"
"Can I trust you?"
"How can you help me?"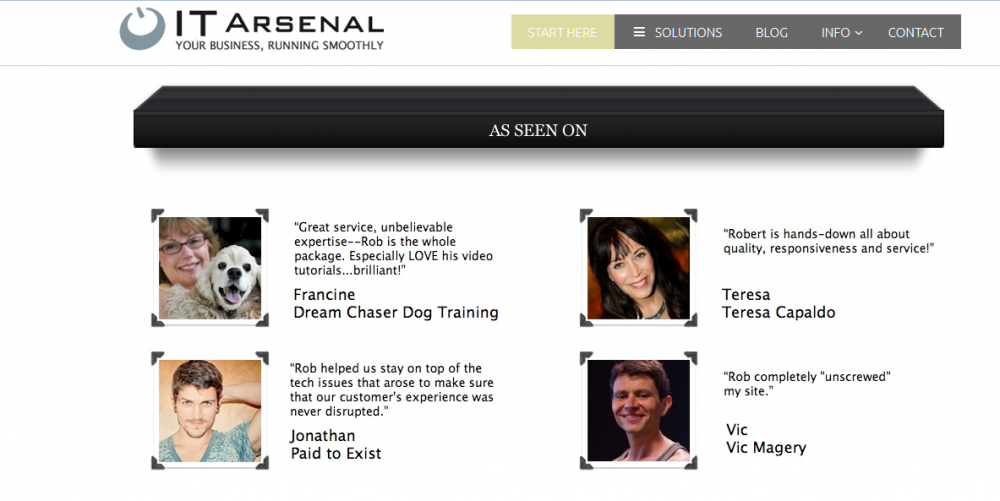 Or, you can build a separate "Testimonials" page like mine: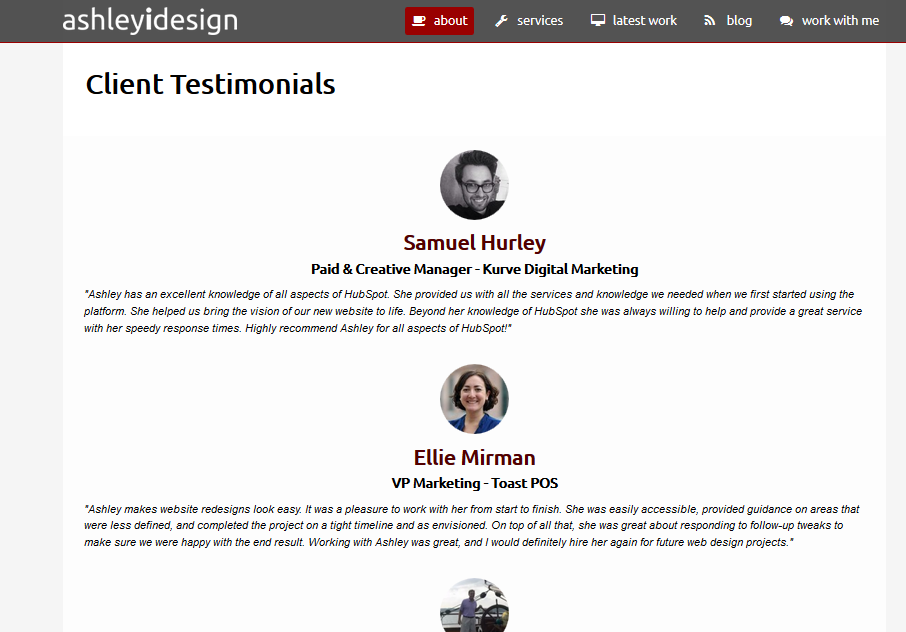 #2 - Including testimonials in your email marketing
Subscribers these days have short attention spans. You have to make the most of it by getting to the point and stating the benefits of your offering (i.e. superb customer relationships). Doing so will enhance your credibility and hasten their decision to do business with you.
Add the testimonial toward the end of an email or at the PS line. This is the most read section next to the subject line.
#3 - Use it in your marketing materials
As much as I emphasize online presence, at the end of the day you still have to go out and meet new clients face to face. This is your chance to show them why your company is top-notch in customer service.
On your pamphlets and brochures, dedicate a section displaying a few customers' comments. This will increase your chances of landing clients who spend most of their time offline. And even without a laptop, you can go to tradeshows, networking events, product launches and bring awareness to the business.
#4 - Create a case study
They grab our attention and keep our eyes glued.
One of the best ways to leverage this human nature is to write a series of feel-good stories and compile them as a case study.
Unlike blog posts and other marketing material, case studies give an unbiased view of your offering – especially if you include direct quotes from past customers. That alone adds more weight to your credibility. Case studies address the most vital questions lingering in prospects' mind to help them with their buying decisions. They were able to "test" the product without actually purchasing it by reading other peoples' experiences.
You could start by introducing the background of each customer. Then, state the problems they had to deal with (e.g. poor communication, slow response time, being too sales-y, etc.). Lastly, let the customers explain how your services saved the day.
#5 - Produce a video
Just like case studies, video content gives you a powerful tool to highlight your customer service to as many people as possible and across different devices.
This medium is so versatile, you can embed it in your homepage in addition to text-based testimonials. Or post it on your social media channels to attract engagements from warm and cold traffic.
In most cases, producing a video is better than writing case studies because prospects can actually see the people behind the testimonials. They can feel the raw emotion and build a connection you won't find in graphics or text.
Final Thoughts
Most business people are wondering where to get material for their next campaign. When in fact, the market has all the answers.
If you've served your customers well, their feedback is a goldmine that you have to take advantage of.
Customer feedback is versatile content that you can use in several mediums. It's just a matter of getting the ideal ones that serve your purpose.
I help business owners and marketing professionals build powerful, automated content systems, which increase sales and boost customer happiness. Here's how it works.