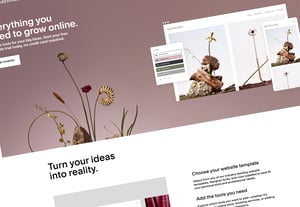 HubSpot coined the term Inbound Marketing years ago, so it's no wonder their software is the leader when it comes to creating content, managing campaigns, and tracking the lifecycle of new leads. Of course, I prefer using HubSpot since I used to work there, both teaching the software to coworkers and helping customers get their best ROI.
However, not all of the work I do for my clients is through HubSpot. I currently work with clients who do inbound marketing without it, and I wanted to share with you the tools we use as an alternative.
Obviously, the pros for finding alternatives to HubSpot are budget-related. HubSpot is an investment, and unless you're going to immediately see an ROI, I don't recommend jumping to it. Instead, choosing other tools allows you to do inbound marketing without wasting your marketing budget. The trade-off is a lack of 100% integration, and more overhead in maintaining separate tools, but by planning ahead and understanding how the data transfers between platforms, you'll be able to create a system that does the basics.
Website
The most common website hosting platform I use and recommend is Squarespace. I tell clients that I can build anything on HubSpot, and this is almost the case with a higher-level Squarespace site, too. What the platform gives my clients is a WYSIWYG tool that's fairly intuitive, which means they're empowered to make changes themselves, if needed. We can spin up a new landing or website page fairly easily, and quickly add new menu items.
Email
For email and specifically email automation, all of my non-HubSpot clients use Mailchimp. While not nearly as robust a platform, Mailchimp does give you the opportunity to segment your audience by tags. This allows us to send onboarding emails that differ from segment to segment. Mailchimp also has a number of integrations that let you combine these tools together.
CRM
Now, I won't give you an alternative to HubSpot CRM, namely because I always recommend it, and haven't used any others in awhile. If you have one you use and love, I'd like to hear about it, though. The free version of HubSpot CRM has plenty of features and integrations to not need anything else, especially if you're starting out with inbound marketing.
Social Media
Finally, for social media managing, I do that on the platforms themselves. Yes, the Facebook interface can be frustrating, but it's also free. There are publishing platforms out there like Hootsuite and Buffer that are available, as well.
Working Together
Having and maintaining one system is, of course, preferred, but a combo of either automate.io or Zapier gives you the ability to sync data together so you're getting a complete inbound marketing toolset without the cost of HubSpot.
I help business owners and marketing professionals build powerful, automated content systems, which increase sales and boost customer happiness. Here's how it works.