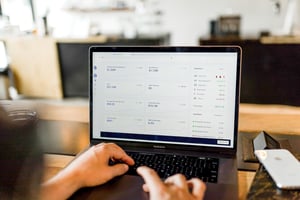 Chances are, you've heard a lot about KPIs—key performance indicators—and have thought a lot about selecting a few to help track your brand's growth.
But where do you begin? What kinds of things should you even be tracking?
Or maybe you've chosen a few KPIs, but they just aren't doing much for you. Did you select the right data to track? Is it serving your company?
It can be hard to decide what KPIs are right for your business. If you're wondering what kinds of data you should collect, you aren't alone. In fact, in a survey of 157 companies conducted by the Harvard Business Review, only 23 percent of these companies had done any work to figure out the causes of the effects they were studying—and 70 percent of the companies polled were only examining financial data and nothing else.
Whether you're swimming in a sea of too much data or you're just starting to dip your toe into the KPI pool, it's crucial to be selective about what you decide to track. Let's dive in.
So What Exactly is a KPI?
If you haven't really taken an in-depth look at KPIs before, you may have an idea of what KPIs are all about, but let's unpack what KPIs truly are.
According to Investopedia.com, a KPI is a "set of quantifiable measurements used to gauge a company's overall long-term performance." It's a set of measurement standards you can return to time and time again to track your company's growth and progress.
By measuring these same standards over and over again, you get a comparison over time so you can pinpoint exactly which tactics are working for you and which ones you can let fall by the wayside—in other words, which tactics are and aren't serving your brand.
You also can think of your KPIs like your annual physical. Each year you see your doctor, they take your height, weight and blood pressure, and they also probably do some routine bloodwork. This way they have a benchmark to know how your body functions so that if something changes, it's easier to know when it happened and why.
While you should check your KPIs more frequently than once per year (!), it's basically the same idea.
What Kinds of Things Do Other Companies Track?
Now that we are a little better acquainted with the idea of what KPIs are in theory, we can start to focus. What are the important factors that other companies choose to examine time and time again as their KPIs?
Typically, KPIs are broken down into four different categories:
Financial metrics: These pertain to a company's financial goals. It may be overall profit, daily sales, cost-effectiveness, or even the variance between your projected and actual revenues.
Customer metrics: With customer metric KPIs, you are examining the behaviors of your customers, measuring things like the total number of customers, customer satisfaction and retention, or customer lifetime value. For example. for one of my clients I track the analytics of logged in users and the type and topic of content they're visiting. This data helps drive future content production projects instead of just guessing what users want.
Process metrics: Process metrics refers to the overall success of your process, from the effectiveness of your production line to the kinds of support customers might need. This might look like KPIs tracking the number of customer service inquiries or percentage of product defects
People metrics: People metrics refers directly to the people working for your brand. What is your employee turnover rate? How many inquiries do you get in regards to an open position? How satisfied are your employees in their job at your company?
By breaking your KPIs down into these metrics, it's a little easier to decide what you want to track and what your end goal is. Are you looking to increase employee satisfaction, or are you working to improve your company's finances?
Whatever you decide, your KPIs should fit into a corresponding metric to track your progress.
Which KPIs Should You Select?
We still haven't addressed the main question: What is the best KPI for your brand in your specific line of work?
The truth is, every company's KPIs will look radically different. Why? Because KPIs are based on what your specific goals for your unique brand are. When choosing your KPIs, remember this phrase:
"What gets measured, gets improved."
So the real question is, "What are you looking to improve?" You should select KPIs that relate directly to the goals you have established for your brand.
Also? It could be easy to add dozens and dozens of KPIs to your list. Click-throughs, views, opens, conversions? The list could go on and on. But with too many KPIs, you aren't really able to closely track them. In this case, you might as well not have any KPIs at all; it's just too hard to keep up.
So be selective about the number of KPIs you choose—leave it to somewhere between four and 10 KPIs that line up directly with your overall goals for your business. This way, you can keep yourself accountable and follow your KPIs closely.
Tailoring Your KPIs to Your Business Format
Your business goals will be different if you're a B2B company or a brick and mortar store, right? After all, you are interacting with clients and customers in very different ways.
If this is the case, then your KPIs will be different as well. So when selecting your KPIs, in addition to reviewing your business goals, you also should take into account what it is that your company does.
Perhaps you run a lawn care business, and one of your goals is to grow your client list. One of your KPIs could be tracking the number of new bookings.
Let's take a look at how you might arrive at your chosen KPIs based on your business goals.
Example 1: Your goal is to boost sales 15 percent in the next six months.
If your goal is to boost sales, you can monitor a few separate factors that give you a strong indicator of how your sales are growing. You may choose to monitor daily sales, your conversion rate or even your daily website traffic.
Example 2: Your goal is to grow your website traffic by 18 percent over the next calendar year.
You want to increase traffic to your website, so it may be beneficial to first discover where your traffic is originating. Perhaps you monitor your site traffic, traffic sources (how your site visitors are finding your page), promotional CTRs, social media shares or even bounce rates.
Example 3: Your goal is to reduce the total number of customer service calls.
If you're looking to increase customer satisfaction by decreasing their need to interact with customer service, then you have some options of KPIs to consider. You might track the breakdown of what kinds of customer service calls you are getting by genre to see what needs to be addressed, and you might even look at website visits that happened immediately before a customer service call to discover what kind of helpful information you might want to publish on your website.
Still having trouble coming up with a list of KPIs that fit your business? Check out this list of 67 possible KPIs that might work for you. A few that I think could be interesting to follow?
Mobile site traffic: This refers to the total number of users who access your site via a mobile device each day.
Email click-through rate: See how your CTAs are improving when you follow your CTR.
Average first response time: This is how long your customers have to wait when they contact your customer service team for assistance.
Cycle time: How long does it take you to manufacture a single product from start to finish?
Cost variance: Examine real vs. predicted man-hours spent on a project.
Your KPIs, like everything else your company does, should be a true reflection of your personal brand. No other company is doing what your company is doing, so why should your KPIs look like anyone else's?
Consider your mission, your goals, your company's tone of voice and your identity, and start there—because what matters most to your customers is a genuine interaction with a company that can provide them the goods and services no other company can.
---
I empower businesses and marketers to create automated content systems that elevate sales and delight customers. Here's how it works.
Also, heads up, I may receive commission on purchases made through links on this page.