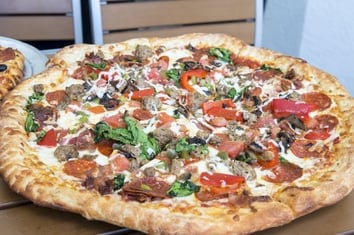 You've probably heard about Tony Hsieh's "Pizza story". For those who don't know Tony, he's Zappos' CEO and is an advocate of excellent customer service.
Here's the story:
Tony took his clients out for a night in a bar and returned to their hotel late. One of his clients was craving pizza. Unfortunately, room service was done for the night. Tony suggested calling Zappos customer service. But here's the thing, Zappos is a fashion retailer, not a food delivery service. Still, the service rep found 3 local pizza parlors near the hotel and made an order for the client.
Excellent customer service has been a part of Zappos' culture for years. And despite Amazon's $1.2 billion acquisition, Zappos has remained loyal on its core value:
Delivering over-the-top customer service – whether it's ordering a shoe, makeup, or perhaps, a pizza.
Today, Zappos remains one of the largest online shoe stores in the world – with $1 billion in revenue and growing!
As for Tony, his success in Zappos enables him to reach more customers through forums, interviews, and conferences all over the world.
Thanks to Zappos' fanatical customer service.
Customer service is the new marketing
Customer service is starting to shift the way companies do their marketing.
Gone are the days when the only way to grow your funnel was spending hefty ad dollars. In fact, traditional ads have found stiff competition in social media.
Print, radio, and TV ads can never solve present day marketing needs on their own.
Today, companies are required to take a look at their customer service initiatives and invest in them heavily. It's a big shift from the traditional marketing methods.
In a DMNEWS article entitled "Stellar Customer Service Is a Marketing Investment", Yankee Candle CMO Brad Wolansky recommends funding your customer service and running it like any other program.
He gave 10 reasons why it pays to do so, but I'd like to highlight the most obvious one:
Happy customers find new customers for you.
With customers getting more social these days, the power of word-of-mouth marketing is becoming more amplified.
According to Pew Research Center, 24% of American adults have posted comments or reviews online about the product or services they buy.
And what a better way to make your existing customers your instant marketers than by treating them right.
Their message is more personal, authentic, and credible. But not only that, endorsements from happy, satisfied customers have more impact than any other medium of exposure for your business. Not just for revenue, but because of the increased credibility you gain in the process.
In Business News Daily's "Why Word of Mouth Trumps Traditional Advertising", Nielsen's Randall Beard explains:
"Although television advertising will remain a primary way marketers connect with audiences due to its unmatched reach compared to other media, consumers around the world continue to see recommendations from friends and online consumer opinions as by far the most credible. As a result, successful brand advertisers will seek ways to better connect with consumers and leverage their goodwill in the form of consumer feedback and experiences."
My Own Example
I regularly visit the HubSpot forums and discussion sections in Inbound.org. I try to share my expertise and experience with anyone who asks a question I can answer. For example, if someone has a question about design, development, or a similar question, I'll pop in and give an answer. A number of times, the asker contacts me for further support and eventually hires me to handle their project.
Also, I was able to showcase my services through client testimonials. I regularly ask clients to provide testimonials, which I then use on my site or other collateral. It's important to share with prospects that I'm a customer-oriented professional instead of sales-oriented.
And just like Tony, it increases my likelihood of tapping potential markets – which in turn, puts me ahead of the competition.
Final Thoughts
Customer service is just part of your marketing tactic. It's not a magic pill that will solve your marketing issues.
It can't keep an irate customer who's complaining – for the 11th time – about a defective laptop. Or a disgruntled buyer who got stale meat. Or a motorist who keeps changing his brakes every six months.
What I'm trying to say is that good customer service is part of the solution. It can only do so much for a product that has no real value.
But it's good to know that there's a better, more affordable way to keep and increase your funnel without hurting your budget.
And that involves empathizing with your customers, attending to their needs and they had a great time doing business with you.
What are some of smartest customer service tactics you've found so far? Do you have any horror stories with customer reps? Share your comments below.
I help business owners and marketing professionals build powerful, automated content systems, which increase sales and boost customer happiness. Here's how it works.