Creating an effective email marketing workflow is tough. Where do you start? And what's the best way to get emails read, click-throughs optimized, email lists managed, and professional looking emails full of great content and lots of personalization drafted? While email has been around for years, there are new innovations in email marketing that are making it a fresh, accessible way to promote your brand.
If done correctly, email marketing has a great return on investment. For every $1 spent, email marketing averages a return of around $38. Additionally, a whopping 99% of email users check their email daily— that means there are lots of opportunities for you to reach your audience and grow your business with every email you send.
There are so many email marketing platforms available now. But which ones are the best match for your company's needs, delivering the highest return on investment? Check out these top picks for email marketing platforms. Each one is customizable, easy to use, and field-tested for great results.
Hubspot
One really effective email marketing platforms that can be seamlessly implemented into your website and your business is Hubspot. Hubspot readily acknowledges that a lot of marketing campaigns go unnoticed or unopened by their intended audiences. They actively work to combat that with personalized emails and attention to detail. With Hubspot, you aren't just throwing an email out to your email list, you're emailing each individual person on your email list, and the difference to your recipients is noticeable.
Another way Hubspot really knocks it out of the park is with their lead generation. If you're looking to expand your contact list, Hubspot has lots of helpful hints and tools to get you more leads so you can reach more people on a regular basis.
When you use Hubspot, it's easy to draft and send emails yourself that look professionally designed and put-together, with templates and drag-and-drop features so your emails aren't just beautiful, they're beautifully easy to create as well. Emails are personalized for each recipient, which dramatically increases the chance for click-throughs. Also, you receive up-to-date analytics to learn exactly who is engaging with your emails so you can better understand what works and what doesn't.
With Hubspot's ease, strong design, and available analytics, it's a can't-lose option for email marketing.
Mailchimp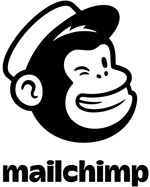 Mailchimp is another email marketing platform that focuses on personalization and tailoring information to each recipient. You can divide your email list into detailed segments and groups to create campaigns that are always relevant to the reader, which makes for better results. One of Mailchimp's biggest strengths lie in its segments and groups features.
Want to expand beyond available templates and forms for your emails? If you're a bit more skilled than the Average Joe, you have the option to code your own HTML templates (and review their how-to guides) so you can perfectly match your emails to your existing brand.
One of the most attractive things about using Mailchimp for all your email marketing needs? There's a permanently free plan you can use. Your business may eventually outgrow the free plan, but it's a great place to start as you develop your company and fine-tune your email marketing.
Not so tech-savvy? Perhaps you think you might need help along the way? Mailchimp offers 24/7 free online support for your first month, and ongoing support is always available for an additional $10 every month, so whether you have a question about formatting or have hit a roadblock in writing an email you can get some extra advice from the pros at Mailchimp.
Even with a free account, there are step-by-step instructional guides and lots of information on how all of their features work. There's even a "field guide" to email marketing you can check out to get a crash course in best practices. Because of how easy it is to use, it's a great way to get started with email marketing.
Constant Contact
When you use Constant Contact, you are using an email marketing tool that truly works with all of your public platforms. Gather emails from your website, mobile devices, and even from Facebook, so all your addresses are in the same place and you are able to reach more people than ever before. You can manage your Facebook ads and your marketing calendars all in the same place, and with their Email Plus account you can create automated emails, interactive polls, coupons, and much more - their list of features goes on for days.
Constant Contact has scores of attractive templates to choose from, each being mobile-responsive and easy to customize. See results for each campaign appear in real-time, so you can analyze and learn from each project, even as you begin the next one.
Constant Contact is ideal for small businesses. The price is right and, with lots of built-in support, you'll never feel like you're in over your head when it comes to managing lists or composing and designing eye-catching emails. Integrate your Shopify account with your Constant Contact platform to reach even more people and simplify your life.
For the price and the seemingly unending list of features, Constant Contact is a top contender for email marketing.
If you haven't already, now is the time to jump into the email marketing game. It's not just a good investment of your marketing dollars— it's a great way to regularly reach your client base with new innovations debuting constantly to connect, promote, and personalize your brand.
---
I empower businesses and marketers to create automated content systems that elevate sales and delight customers. Here's how it works.
Also, heads up, I may receive commission on purchases made through links on this page.