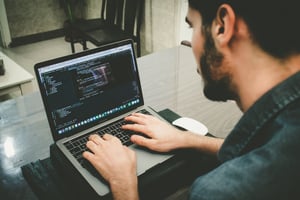 So many small business owners spend lots of time and money establishing a perfectly curated, informative, eye-catching site. And then they abandon it, with no updates or changes to the form or content for months, or even years, at a time. When this happens, your website becomes like a stagnant time capsule. It perfectly describes your company at the time of publishing, but it does very little to keep visitors to your site in the know about all the progress your business has made in the meantime.
It may feel like just one more thing on your to-do list, but perhaps the most important thing you can do to keep your site genuine, fresh, and findable is to regularly update your site by adding new content. Here's how:
Improve Your Search Engine Optimization with New Blog Posts
Google is constantly changing its search algorithms to make it easier for people to find what they are looking for quickly, but that can make things challenging for you as a site creator.
One way to increase your search engine optimization (SEO) score is to continuously add new content to your page in the form of blogs and informational postings. The better your SEO score, the more likely it is to get new traffic to your site, and new business. It also makes you an expert in your field, constantly sharing valuable knowledge with visitors to your site.
When you make a change to your website, Google's indexing crawlers evaluate your site for changes, and the more valuable content you are able to add, the better. Google wants to be able to display the most relevant, current information for each and every search. Each new blog post gives Google another chance to "crawl" your site, increasing the likelihood for your page to be listed above a competitor's in the search results, and also to match more search terms.
Creating constant content, even just once a week, or at the very least, once a month, is one of the best ways to help keep your SEO score high and your site locatable in a quick search on the web. Blog posts are also informative, making you a valuable, knowledgeable resource for current and new customers. It will help you develop a readership and a brand persona that is informed, skilled, and up to date.
Put Your Expertise on Display with Pictures, Reviews, and Posts
Think of it as showing off what it is you do best: Posting pictures and a quick description of a recent project or writing a blog post to share your unique knowledge is a great way to keep visitors coming back to your site. When you regularly update your site with new content and new information, regular visitors to your webpage will be able to continue to learn about what you do, which establishes a relationship with your company that grows alongside you.
When people see you making regular updates and changes, it helps you to be perceived as an expert in your field; someone who is working to stay knowledgeable about the latest developments in your industry. This means that prospective clients will feel that they can trust you with their business, because you are current, informed, and willing to share your expertise. Post a picture of the work you've done as a contractor remodeling a new bathroom, or share that latest glowing review alongside a snapshot of your work: It's proof of the great work your company is doing.
Mix It Up
It may sound daunting to write a new blog post every week. It's time out of your day, and time is so scarce already when your running a business and a website. So what's the solution? You don't have to write a huge post every week.
There are lots of options you have to generate quality content that will increase your SEO, and connect you with people seeking your services without having to write a huge "report" every week. In addition to long-form or extended blogs, think about adding:
Excerpt blogs with pieces of very valuable information, but lower word counts
Testimonials and customer reviews to build trust in your business
Interviews with niche experts to educate your clients
Informative or exciting videos relevant to your field
Infographics that help establish a need for your business
Webinars that your customers will find relevant and interesting
Links to fresh things happening on your social media
The opportunities are endless. The most important thing to think about when writing new content is to think of the living, breathing humans that will see your new content, and how you can best reach them. Each new update is a great way to continue to develop your brand persona, and you should treat it as such.
Gated Content
What is gated content, you might ask? Gated content is online content made available only to those who have provided information to you. It might just be an email address, but it could also be a few questions about someone's job, interests, or their organization. This is a great way to generate new leads and begin to establish a working relationship with new clients. It's also a perfect way to see who is viewing your website, and who craves more content. This can really help you tailor your future updates to the people who are visiting your webpage.
One downside to gated content? Google's crawlers don't extend into gated content, so it won't help your SEO. So if you're looking for more website traffic, gated content isn't the way to go, but it is extremely helpful in gathering new leads and relevant information so you can best meet the needs of those who are visiting your website. Because of this, gated content is a great way to get in touch with new people, but it shouldn't be the entire focus of your website updates.
With each new update you add to your website, the question should always be, "Is this authentic, genuine content helping me connect with people?" If your blog posts, pictures, and other updates are honest reflections of who your company is, your website, and your brand persona, will ring true and generate the kind of visitors and business your company is seeking.
---
I empower businesses and marketers to create automated content systems that elevate sales and delight customers. Here's how it works.
Also, heads up, I may receive commission on purchases made through links on this page.