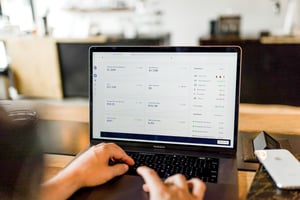 There are nearly as many strategies for online marketing as there are business websites, and each has its own theory of how to best bring in traffic to its site.
But which one is right for your unique business?
Many of these strategies are based on two ideas: creating a website that pulls people in or reaching out to potential customers to capture their attention. These two ideas can be boiled down to two main ideas: Search Engine Optimization (SEO), which has a lot to do with inbound marketing, and Pay Per Click (PPC) ads.
So which one is right for you? When should you invest in PPC ads, and when can you rely on SEO tactics to bring in the customers you're looking for?
SEO and Building Your Traffic Organically
If you've spent any time on my page, you know I'm passionate about building a website that drives SEO, which instills the ideas of SEO right on the page to bring new leads to you instead of the other way around. It's what inbound marketing is all about.
Developing a site that's designed to pop up organically on a search results page is a great way to build trust with a potential new client. Think about it: They searched and found you, without ads. You were the solution they found to solve their problem. That's marketing you can't put a price on.
Maybe you've created a blog that is full of stellar information that your future customers will find invaluable. Your efforts are likely to pay off: Marketers who invest and prioritize blogging efforts are 13 times more likely to see a positive ROI.
Organic search results have a higher click-through rate (CTR), and a higher CTR boosts your ranking on a search engine results page.
What does this mean for you? It means that creating a website that is SEO-driven is an undeniable way to improve your CTR and bring new business to your website.
While search optimization takes time, careful planning and marketing funds to truly achieve, it is a sustainable, cost-effective way to create a website that continues to work for you, long after you invest in SEO. It's like playing a long-form game instead of a short game. It's a long-term strategy, and it has a great ROI.
By the way, if you've found this content useful, you can subscribe to get new posts via email.
PPC: Target Your Visibility with Incredible Focus
If consumers put so much trust in organic search results and if SEO is so effective at gaining clicks and generating leads, why would any company invest in PPC marketing?
What does PPC have to offer that perhaps SEO marketing styles can't offer?
With PPC ads, it's all about control of information the consumer sees, and it's all about page location. You can't beat the location of a PPC ad at the top of a SERP. There are typically four paid ads at the top of a search page, and three paid ads at the top of a mobile SERP. When you pay for a PPC ad, you are guaranteeing that your potential consumers are going to see your result first.
Additionally, with PPC ads, you get to control the copy that shows up for those searching the web for companies just like yours. You have complete control over what your ad says and more space to deliver your message and get your brand seen.
For example, for one client I set up Facebook PPC ads for their signup page. With a defined and targeted audience, we don't need to wait for someone to search for the benefit my client offers through their membership.
You also have the opportunity to conduct A/B testing and discover what your customers really want. It's a great way to develop a new marketing strategy because you get immediate feedback from consumers about what works and what doesn't.
And the best part? It's only being seen by people who already are interested in what it is that you do. And you only pay for the clicks you receive.
If you sell a product, you also have the option of promoting visual shopping ads. These product listing ads give your future customers a better idea of what it is your company does. You get to connect with consumers in a totally new way.
Why else does PPC marketing work for so many people? It gives you complete control of your budget. You get to set a fixed limit and spend no more than that.
PPC ads also allow you to see data and have direct information about the success of your ads. It provides you with data to analyze and improve your marketing efforts.
Which Is Right for You and When?
Deciding when your business should pay for PPC ads versus generating articles, pages and links that drive SEO is a very personal decision that depends wholly on what kind of business you have and what your long- and short-term goals are.
If yours is a locally based small business that specifically serves your community, you can really benefit from some focused SEO development to drive visibility in your area and work your way to the top of the search results in your region.
Just how effective is SEO-based marketing if you're looking to boost local traffic? Seventy-two percent of consumers who conducted a local search visited a store within five miles.
If your business deals in e-commerce, then your net might have to extend farther to gain wider attention. You might be competing against larger companies or well-known online retailers to promote your brand. In order to do this, it may benefit you to consider a PPC route in addition to developing your on-page SEO.
Are you in need of leads now? Or are you offering a short-term promotion, expanding your business or spreading the word about some other newsworthy development? Maybe you're feeling stuck in your marketing strategies and looking for new information from your customers about what works and what doesn't.
If so, PPC may be a helpful way to drive traffic to your site, increase awareness and receive priceless marketing data.
Creating an Unstoppable Force: Using SEO and PPC Together
Here's the truth: You don't have to choose between SEO and PPC tactics. You actually can use them both to accomplish very different things to build your brand.
What are the benefits of using both strategies together? Data gathered from PPC ads can be used to further develop your SEO strategies based on what was effective in your PPC ads. In this way, your PPC ads can become an investment. PPC ads are a great way to test keyword strategies before you invest them in your SEO strategies.
You can further your SEO development to continue to play the long game, to create a website with self-sustaining content that drives traffic. You also can use PPC ads to increase knowledge about more immediate information like promotions and expansions.
I care deeply about creating the perfect marketing strategy for your brand. Just like your brand is unique in what it has to offer, a cookie-cutter marketing strategy won't work for you.
---
I empower businesses and marketers to create automated content systems that elevate sales and delight customers. Here's how it works.
Also, heads up, I may receive commission on purchases made through links on this page.