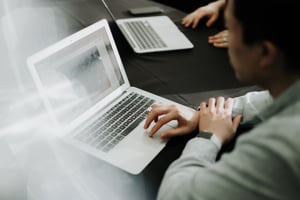 While using HubSpot for inbound marketing is a gamechanger for the efficacy of your marketing efforts, at its simplest, HubSpot is a contact relationship management tool. It allows you to put all your contacts, whether they're customers, leads or prospects, into one place and keep an eye on how they interact with your business.
Doing so means sales and customer service are more informed about what the particular contact is doing, and marketing can keep track of what tactics are best for conversion from MQL to SQLs.
A project I often do for clients is getting them up and running on HubSpot. That is the number one project for me this year. Starting with a new, fresh HubSpot account means having a chance to rethink how your sales, marketing, and customer service teams work together and how best to manage your funnel.
Here are some basic steps for getting started on the HubSpot CRM:
Gather and clean up contact data, and build custom fields
The first thing you should do is combine into one excel file all the contacts you want to import into HubSpot. This could be from your work email contacts, phone contacts, and lists from your current email marketing tool.
Next, you want to go through these contacts and make sure you have an email address for each since that's how HubSpot manages duplicates. While you're at it, look at any custom fields you want that don't exist in HubSpot. This could be the name of the service or product they buy from you, the email address of their account manager, the date their contact is renewing, etc. Any fields you would like to segment on in the future should be created in HubSpot before importing contacts.
Import contacts and build segmented lists
The next step is importing all those contacts. HubSpot makes it easy to match fields and import data. Once the data is in there, you should start building some active lists to display those contacts. This could be a list of current customers, hot leads, or those that haven't engaged recently, based on email data from your previous tool.
Define what reporting questions you need to be answered, and build reports to answer them
The final primary step to getting started on the HubSpot CRM is defining and creating reports to help answer questions on the health of your business. You could create a report for net new leads this month, all the way to looking at attribution reporting and what contact is affecting conversion rates. The sky is almost the limit for HubSpot reporting, so it's essential to define the questions that need answering.
I hope this brief article helped you understand the steps that need to happen to start using the HubSpot CRM. If you have any questions, get in touch!
I help business owners and marketing professionals build powerful, automated content systems, which increase sales and boost customer happiness. Here's how it works.