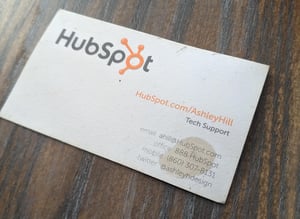 A couple of years after college, I applied to work at this little software company in Cambridge, MA, as a support rep. I'd be answering the phones, handling customer issues, working my first "real" job and first office job. Previously I worked in retail for almost a decade, so my knowledge of deescalating upset customers and solving problems would be handy at this software company.
Of course, that software company was HubSpot, and little did I know that working there would kick off another decade of learning, personal growth, and starting my own business.
It wasn't just the software I learned by working at HubSpot. I also learned about inbound marketing and how pushing the right levers online would generate huge gains for small and medium-sized businesses in traffic, leads, and sales. Day after day, I would hop on the phones with CEOs, presidents, directors of marketing, and owners of mom-and-pop shops to help them not only use HubSpot technically, but also teach them the best practices of inbound marketing.
I felt empowered by working at HubSpot to call things out when they weren't done properly. I let these customers know a better way to solve their traffic or lead problems. At the time, HubSpot wasn't as large a company as it is today, and I secretly loved it when inbound consultants or sales reps pinged me about issues they had that I could solve. I see issues and problems as opportunities to solve and teach so that they're not a problem in the future.
What I learned at HubSpot I first applied to my own business, getting first-hand knowledge of how well inbound marketing works for small businesses. I use my own HubSpot account to experiment with ideas before applying them to my clients.
Learning about inbound marketing is not a one-and-done item on your checklist, either. It's a constantly improving field, whether it's new strategies or tactics, or just new tools in the HubSpot software itself. Keeping up with these new ideas is naturally part of how I work since it allows me to turn around and help clients use them.
Now, almost a decade after working at HubSpot, these are the same ideas that I bring to my current work, helping businesses get found online and attract the right kinds of leads.
I help business owners and marketing professionals build powerful, automated content systems, which increase sales and boost customer happiness. Here's how it works.