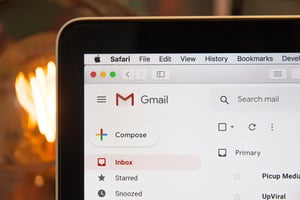 Think email marketing is dead? Think again.
Email is more alive than ever. In fact, by 2021, there will be an estimated 319.6 billion emails sent and received every day. And inbound marketing is more alive than ever too—and I couldn't be more excited about it.
Why inbound? Because it's more effective than other marketing techniques, that's why. Older techniques like commercials, traditional print ads and more are no longer working the way they used to. We don't rely on commercials to find the perfect cell phone for our needs. Instead, we research and seek out information that helps us decide. That's why inbound marketing is so effective.
It's the same with other industries too. That's why marketers in the U.K., Ireland and the U.S. all say that paid advertising is the least successful form of advertising. Also? 28 percent of those marketers in the U.K. and Ireland say that traditional print, outdoor and broadcasting marketing is now overrated.
When you do it right, an email marketing campaign can be very profitable for you; two-thirds of customers have purchased something as a direct result of an email they've received.
So your next email campaign? It should be chock-full of inbound marketing strategies to appeal to the modern-day consumer who seeks out information for themselves.
Here are a few strategies you might have forgotten:
Automated Welcome Emails
One of the most important things you can do for your email campaigns is to reach your new subscribers when they are most interested—that is, when they've just signed up for your emails. You absolutely must have an automated email campaign set up to send out an email as soon as your contacts have signed up to receive them.
You can automate your email marketing campaign to send out three emails to each of your new contacts. Think about new hires: You wouldn't expect them just to understand your company culture from the start, right? Welcome emails sent to your new contacts help give them a good idea of how your company works and who you are. You're taking care of them when you send out welcome emails.
What should you send in your welcome email campaign? Constant Contact suggests sending this series of welcome emails over the span of several days:
A Welcome Email—This email not only welcomes your new contacts but lets them know they should expect a few more emails over the following days. This is also a great opportunity to include an offer or promotion along with useful information they might want to know.
An Invitation to Connect—Your second email should introduce your contacts to how they can connect with you via your social channels. Invite them to connect! Provide them with links to follow you on Instagram, Twitter or Facebook.
A Get-to-Know-You Email—I can't stress enough how important it is to have data about your customers and to utilize data-driven marketing. You can craft well-targeted emails, but only if you know who to send them to. Send out a survey asking for additional information about themselves. Your contacts will appreciate that you have an interest in them, and you'll appreciate the extra data.
For example, I set up automated email systems for my clients, such as a non-profit who needed to onboard new users to their digital platform. By setting up email automation, we're able to direct users to simple, actionable tasks that increase usage of the site.
By the way, if you've found this content useful, you can subscribe to get new posts via email.
A Buyer Persona
Do you know who is receiving your emails? Without an idea of who your ideal customer is—that is, who your buyer persona is—you can't target your marketing campaign to anyone in particular. Adding a buyer persona to your campaign strategy helps you create emails that appeal to your ideal customer with laser focus.
Why should you create your emails with your buyer persona in mind? According to several Gallup polls, the companies that use this data to build personalized marketing campaigns outperform their peers in sales growth and 25 percent in growth margin sales—which is why sending out surveys is so valuable!
So if you are drafting marketing emails without a very detailed picture in your mind of exactly who's receiving them and who is clicking "Add to Cart," you won't connect with anyone in particular.
A Strong Value
If the people on your contact list don't see the value in an email, you may find that your email marketing campaign isn't as successful as you hoped it might be. This means you should think about adding something of value for your readers—an added value to your email to inspire them to continue opening your emails.
This can look like many different things. It can be exciting content focused on providing readers with valuable information, but it also can be a discount, promotion or freebie or a downloadable guide sharing content and information that would make it worthwhile for your readers to keep opening the emails you send.
When you add value to your email, you aren't just following up. You're giving your readers a reason to keep reading.
Graphics, Videos, GIFs and Images
We are increasingly a very visual society. Not only do you need to keep up with other visually rich emails, but you need to be able to stand out in an already saturated market.
So you should inject visuals in your email. These include:
A Great CTA
You may have written the most engaging, inspiring copy for your next email marketing campaign, but if you don't connect the dots for your readers and tell them what to do next? They may not act, and your campaign won't do much besides gain their attention.
You need a captivating call to action.
I've talked a lot about CTAs. When created and used correctly, they can have a big impact. Something I'll never understand? Seventy percent of businesses have no CTA—even on their website.
A personalized CTA can be 202 percent more effective than basic CTAs. And if nothing else, your CTA should be short, action-oriented, eye-catching and perfectly located. So it's essential to find the right spot and write up some stellar copy for your CTA. Your readers won't know what to do with the great information you're sending out to them without it.
Another CTA-related item to consider: anchor text. Don't forget how crucial your anchor text can be for your CTA. Between 83 and 93 percent of a post's or an email's leads come from anchor text CTAs. You can engage your reader with great copy and inspire them to click to continue.
All of these elements can help you create a strong email marketing campaign, but none of this matters if you aren't authentic to your brand personality. The most important thing your email should be is genuine. And that's what your readers will sense more than anything else—more than a CTA or a buyer persona.
I help business owners and marketing professionals build powerful, automated content systems, which increase sales and boost customer happiness. Here's how it works.