Have you ever created a buyer persona for your company or your clients? I bet you actually have, even if you weren't aware of it. Every attempt to learn more about your target audience is a step towards creating a buyer persona. But, as it happens with all other marketing tools, if you don't know exactly what you are doing, you will not experience big success.
What's a buyer persona?
A buyer persona is a tool that helps marketers understand prospects better. To put it simply, it's a fictional profile of a person representing the ideal buyer. The creation of this profile is based on real-life data and characteristics of a specific group of people.
Data used in buyer personas goes far beyond basic demographic facts such as age, gender, location and social status. A proper buyer persona should include more personal characteristics, preferences and psychological traits. You need to dive into an in-depth analysis to understand how your prospects live their lives, and what drives their purchasing needs.
The buyer persona has to cover facts about your prospects like interests, hobbies, lifestyle habits, types of people they are close to, problems that keep them awake at night, etc. The idea is to imagine a real person that you'll adapt your entire marketing communication to, in order to motivate a purchase.
Why are buyer personas essential to marketers?
The information about the specific needs, concerns, and behavior of your target groups helps you tailor your services, product development, and marketing communication. Every product or service a business offers addresses a challenge and solves a problem that people have. The insight that buyer personas provide offers ways of connecting these problems and needs with the solutions your business has in store.
If you manage to create good buyer personas, you'll experience bigger success in lead generation and customer retention. In the past, buyer personas were used only by large corporations since their development required immense resources. Thanks to advancements in technology, mid-sized and even small-sized businesses can create their buyer personas today, and make the most out of them. Buyer personas are essential to marketers for several reasons.

Buyer Personas help in overcoming communication barriers
Developing a deep understanding of consumers is important for marketers who want to get the attention of as many prospects as possible. In order to do this, marketers have to find a common language with consumers, so they can be sure their messages are properly interpreted. Buyer personas provide opportunities for creating this common language with your target audience and establishing an effective communication flow.
Moreover, a properly created buyer persona can help you address your design issues, too. This is especially important in the era of images we live in. Today, images sell a lot more than written and verbal communication. Being able to successfully grab the attention of your target audience in just a few seconds with a proper design can make all the difference on the market.
Buyer Personas present a foundation for successful marketing and sales strategies
There is nothing more risky for a business than leaving some marketing and sales issues untackled. When it comes to marketing and sales, all decisions must be borne out of well-researched data. What is more important, the data used for crafting these strategies must be fresh and relevant. Buying needs and behaviors change continuously, so the strategies for reaching consumers must change accordingly.
If based on proper research, buyer personas can give you a clear picture of who your target customers are. They can also help in following the factors that affect the changes in their purchasing needs and behavior.

Buyer Personas drive better overall business success
Studies show that businesses that constantly outperform their competition are largely focused on their customers. This customer centricity is supported by buyer personas that help businesses come up with the best practices for customer acquisition and retention, and implement them.
The competitive advantage that a buyer persona can give you goes beyond the frame of the market where you are currently offering your products and services. It can help you gain broader knowledge which you can use to enter regional and global markets with little to no risk of errors. You'll be able to address the right people, their specific problems and beliefs, and do so at the right price.
How can you create buyer personas?
A buyer persona is one of the most important tools that you need to start using early on in the marketing cycle. Marketing and sales teams need to know whom they are selling products and services to. Since a buyer persona consists of various customer-related data, you may easily find yourself wondering where to begin.
Before you start gathering information for developing a buyer persona, remember that you will need actionable insight. You don't need to simply state the obvious information about your ideal customers. The point is to connect your customer to an idea that you can leverage.
There are numerous buyer persona examples and templates that you can use to create your own personas. For example, HubSpot offers free buyer persona templates which are customized according to the nature of your business. It also provides very useful buyer persona examples that will teach you how to organize the information about your target audience. Essentially, the process of developing buyer personas can be distilled down into 4 steps.
Step 1 – Determine your ideal customers and what you want to learn about them
Determining the gender and age of your buyer persona is usually the first step. While some buyer personas are not gender specific, it's good to have that information in hand. The age of the people that you want to target can tell you a lot about their priorities in life. These are the other important things you'll want to know about your customers: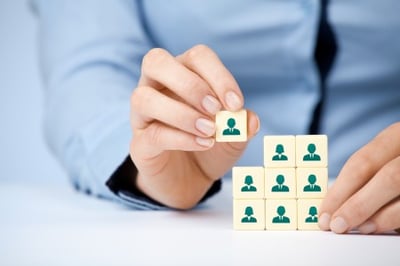 Profession and education – this information will make the buyer persona much more accurate. Depending on the products and services that you offer, the customer's profession and education can tell you how well they understand your offer and if they are considering it for business purposes. The educational background can help you determine if they understand graphs and statistics or if they prefer simplified communication, such as testimonials.
Financial situation – you don't need to go through bank accounts, but you should make an effort to get a clear picture of how much your customers are willing to pay.
Lifestyle – you need to know how your customers spend their time, so you can see where your products and marketing communication are a good fit. Interests, hobbies, favorite TV shows, and even eating habits can prove to be of great importance to you.
Shopping habits – what do your customers buy? Why do they buy it? The reason why people buy or don't buy your products will be the core of your marketing. You need to know the factors they take into account when they make their purchasing decision - that way, you will also learn how important your products are to them.
Step 2 – Search for the information you need
Today, most of the information you need for creating your buyer personas can be gathered online. Make use of tools such as social media monitoring tools, Facebook Insights, Twitter Analytics and Google Analytics. You can also find valuable information from LinkedIn groups and online forums, where people share their concerns about things they find important.
Another good way to gather data is interviewing or surveying your current customers and prospective buyers. Your own sales and marketing teams can also give you some useful insights since they interact with customers on a daily basis.
Step 3 – Sort your findings and create the personas
Gather all the data you have and evaluate it carefully. Try to find patterns and sort them. Then, create 1 to 3 personas for the prospects you find most valuable. In order to be able to connect with them, give every buyer persona a name. This way, you'll treat them as living human beings with real problems and needs.
Step 4 – Validate your personas
Always validate the personas with people who seem to know the people who fit into them. You'll get enough details that will help you find out more about the prospects you are trying to target. Be prepared to make revisions during the validation process. What's even more important - update your buyer personas on a regular basis. People change, your business changes, other external factors change, so you can't expect your buyer personas to always remain a static entity.
If you're interested in learning how a buyer persona affects the way your website should behave, get in touch.
I help business owners and marketing professionals build powerful, automated content systems, which increase sales and boost customer happiness. Here's how it works.