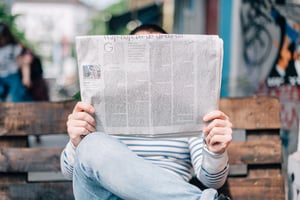 Email marketing can be highly profitable when it's done right. Each $1 spent on email marketing can generate $38 in profits. But you have to keep your newsletters interesting if you want your subscribers to keep opening your emails and turning a profit.
So how can you write email newsletters that your readers will actually look forward to opening?
1. Educational Over Promotional
Of course you want to promote your brand in your newsletter. But what's the key to doing this successfully? You want to find the right balance of promotional content and educational information. HubSpot details how the recreational sports outfitter REI does this perfectly. How do they do it?
Their membership email newsletter does link to specific products on their website. But they only do so when it's relevant to the information they are sharing. When the weather started to turn cold, they published a newsletter devoted entirely to runners-- and shared a link to several items that can help runners stay warm: A hat and gloves, a warm jacket, and waterproof running shoes.
You can do the same thing with your newsletter by gearing it towards a specific subset of your audience. Keep the content educational in nature, and then choose a few specific examples of products or services you can link in your newsletter. But this only works as long as the products or services are directly relevant to your audience.
2. Tell a Story
We don't usually subscribe to newsletters for clinical data or evidence. They want to learn more about your brand. So a great way to write an email newsletter that subscribers will actually read? Tell a personal story.
Share an example of how your brand made a customer's day
Talk about why you started your company
Highlight the personal story of how one of your employees went above and beyond
Explain the growth and development of your company from Day 1 to now
Share an anecdote
For example, a non-profit client of mine sends monthly newsletters to their audiences with stories from their members, either with links to related blog posts or even videos.
A good story is always more effective than a statistic. So if you have a compelling tale to tell? Put it in your newsletter.
By the way, if you find this content useful, you can subscribe to the blog via email.
3. Try a different format
Your newsletter doesn't have to be paragraphs and paragraphs in length. In fact, it doesn't even have to be written at all. Why not try a video or audio newsletter to get your readers' attention?
Just including the word "video" in your email subject line increases the likelihood that your newsletter will get opened by 6%.
So what can go in your video or audio? Try a podcast format like one of these, or show your subscribers what you've been working on with one of these video formats: take subscribers behind the scenes, or create a video tutorial they might want. You'll have a lasting impact when you engage subscribers' senses with something besides words on a page.
4. Offer Product or Service Suggestions
You are an authority in your industry, so your newsletter is the perfect place to offer advice to subscribers who might be looking for some suggestions. And? It might also be a great way to get promotional funding from companies you plug in your newsletter.
As long as they are relevant to your brand and your audience, you can always share some of your favorite products or services. You might even be able to get a commission from every purchase made from the link in your newsletter. And even more important than that, you continue to establish yourself as an expert with your audience.
5. Compile Content From Multiple Sources
You can create great newsletters all on your own, but you'll want to switch up the format from time to time to keep your readers interested and keep them opening their newsletters each month.
One way to do this? Collect content and create a curated newsletter. Save articles you find compelling and share a list with your subscribers. Even if you're an authority on a particular subject, you can share a range of information and opinions with your readers. You'll gain credibility, and ensure your readers stay engaged. Here's a list of curation tools that can help you build the perfect curated newsletters.
I love creating marketing strategies that work for you-- it's why I do what I do. And email newsletters are no exception. Your brand is original; one of a kind. So together let's uncover what makes your company unique, and pour that into your newsletters. Because above all, what makes a newsletter engaging is when it remains true to who you are.
Let's work together to find an email newsletter strategy that will keep your subscribers reading, and helps them get to know you all at once. Contact me today, and you and I can get started.
I help business owners and marketing professionals build powerful, automated content systems, which increase sales and boost customer happiness. Here's how it works.