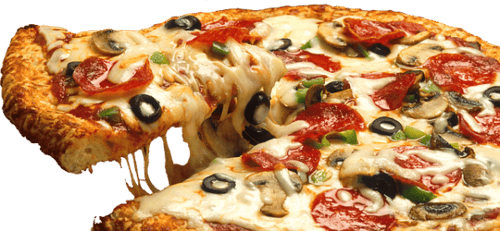 I often get questions from prospects about inbound marketing, and if they can use it as a 'tool' for their business. I usually say yes, but that inbound marketing isn't a tool. It's a methodology companies use to drive traffic and convert leads into sales.
You can even compare inbound marketing to a pizza shop.
The cook uses different ingredients to make different types of pizza – pepperoni, red peppers and spinach on one pizza and cheese, onion and artichokes on the other.
The method of cooking a pizza is the same; make the dough, put on the toppings, slide it into the oven, slice and serve.
But the ingredients can vary depending on the customer, budget and cook.
As you'll see below, all inbound marketing strategies have the same set of activities. The difference is the tools marketers use to manage their projects.
Inbound Marketing Platform (or Software)
An inbound marketing platform is like the crust of a pie; it holds everything else together.
Here's a quick list of inbound marketing platforms you should be checking out:
HubSpot - My personal favorite, HubSpot offers the most holistic solution for inbound marketing. It has strong CMS capability, social media management and email marketing.
Marketo - If HubSpot caters to SMB, Marketo targets high-end inbound marketing projects. It has advanced ROI reporting tools and requires some technical expertise to operate.
Pardot - This platform prides itself on having an advanced email marketing solution. It works well with PPC campaigns by providing smart lead capture forms to attract traffic.
Eloqua - It is a top B2B marketing platform from Oracle which features an advanced analytics tool called Insight. Eloqua offers cloud-based access to more than 150 additional applications like MailChimp, Mailjet and Salesforce
Still undecided?
Then here's a handy infographic explaining the difference between the four: Inbound Marketing Software Comparison
Content Creation and Management
Do you hate it when you find yourself staring at a blank screen not knowing what to write about?
I do.
Creativity can only get me so far, so it's important to get motivated and inspired by experts in the field.
Here are some tools worth your time:
Feedly - Gathers the latest news feeds around your client's industry.
Evernote - Get ideas, scribble notes, store information and compile snippets of quotes, graphs, sound bites, videos or everything under the virtual sun.
Pocket - For anyone who happens to stumble upon an inspiring blog post but don't have time to read it right away. Keep it inside your "Pocket" and read it anytime you like.
Canva - A web-based graphic tool that lets you create Facebook image post, flyers, infographics, poster and more. It has hundreds of free and paid images you can customize on the fly.
SEO
Learn about your customer's favorite search terms and use them as material for your next piece of content.
Google Trends - Bank on search term's popularity and explore trend histories.
WooRank - A free tool that gives in-depth analysis of your website's SEO "friendliness".
HubSpot SEO - An all-in-one SEO tool that offers analytics and recommendations. The "As-You-Type" feature lets you create content based on real-time SEO advice.
Lead Nurturing
These tools help me establish a strong presence and turn leads into buyers.
HootSuite - Allows you to manage all social media accounts in one dashboard. You can schedule posts, respond to comments, track mentions, monitor traffic and find out relevant keywords. Plus, it's free for up to 3 users.
Drip - An email marketing automation software described by autoresponder expert John McIntyre as "Aweber or Mailchimp on steroids."
MailChimp - It has a forever free plan for small businesses and works well with most 3rd party services. It has built-in templates and a plethora of educational resources.
Analytics and Tracking
Google Analytics - This search engine giant studies and analyze your customer's browsing behavior … for free. Tap into Google's advanced tools such as reporting, data collection and analytics.
Moz - Moz points out your weaknesses as well as your strengths while providing SEO solutions at varying levels according to your service plan.
Crazyegg - Tracks clicks, analyzes heatmaps, and tells you how long visitors stay on the page.
Project management and Collaboration
Google Hangouts - It's free, accessible in mobile phones and easy to install – as long as you've got a Google account. What's more, you can have a conversation with up to 10 participants.
Slack - I'm a big fan of simple things and this back channel chat software doesn't disappoint. My team uses Slack to collaborate on projects, plan upcoming content, and say "Hi" once in a while.
Final Thoughts and Resources
As much as I want to evangelize these apps, I'm aware that each business has a unique set of needs, market and technical knowledge.
If I were your position right now – wondering what apps to use – I'd probably educate myself a little bit further.
I included links which will help you create a sound investment decision before purchasing any of these services.
Here they are:
Calculate Inbound Marketing Lead Acquisition Cost Savings vs PPC Advertising
How to Bootstrap Your Inbound Marketing With These 44 Free Tools
Inbound Marketing, Revised and Updated: Attract, Engage and Delight Customers Online (Kindle and Paperback)
How to Create an Inbound Marketing Funnel by Kieran Flanagan
---
I empower businesses and marketers to create automated content systems that elevate sales and delight customers. Here's how it works.
Also, heads up, I may receive commission on purchases made through links on this page.