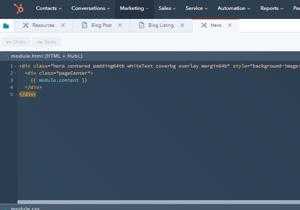 A HubSpot custom module is a great tool for extending the functionality of your HubSpot theme or template. For many of my clients, we rely on several mainstay templates and a library of custom modules that are flexible and powerful enough to build a wide range of page layouts.
With these custom modules, we can often use the same template for both the homepage and the product page. For example, I just finished a redesign of home pages for two separate clients, and in both cases we used the same template, only changing the order and settings of the custom modules, and making a few minor tweaks to the content.
For brands, this means lower development time with a lower number of templates to manage. It provides custom modules that can be repurposed and makes it simpler and easier for the marketing team to build new pages. Once they understand everything a module can do, they can have fun playing around with different ideas for pages, and quickly launch landing pages for various ad sets.
Creating a Custom Module
There are three main parts of a custom module:
The content
The spacing settings, like the margin and padding
The background settings, including images, video, and branding colors
When I build modules for my clients, I include choices for all of these components. I select and include options like different bottom margins to adjust the spacing between modules, allowing the use of a background image, or choosing from preset colors from the branding guidelines.


An often-used option for these custom modules is something called the repeater function. With this function, I can build infinitely adjustable modules to showcase client logos, include team member content, or just give clients options to do things like including any number of columns with a background color, all without having to create a separate template for each concept.
What You Can Do
Once we've created a custom module, there are practically limitless possibilities as to what marketing teams can build. Here are some real-world ideas for custom modules that I've built for clients in the past:
Hero sections with video backgrounds
Testimonial modules with text areas for the content, the person, and their job role, all automatically formatted behind the scenes
Recent or related post functions (like at the bottom of this post, for example!)
Displays for resources with places for titles, images, and links to the landing pages
Automatically counted, relevant statistics
Product benefits and features sections that display content on one side and an image on the other, but flips the order on mobile
There are endless possibilities when it comes to building features on your site, all of which can enhance engagement or lead conversion.
I help business owners and marketing professionals build powerful, automated content systems, which increase sales and boost customer happiness. Here's how it works.