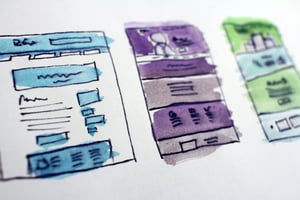 Much like outdated home decor, sometimes we have to strip the "walls" of our websites and update things—or at the very least, apply a fresh coat of paint in a more modern color. From time to time these renovations are necessary in our homes and on our websites.
Are you aware of the current trends in web design—what's in and what's out? More importantly, do you know what trends seem to be the most effective?
The truth is, in 2020, functionality matters. How so? Consider this:
Ninety-three percent of consumers have left a website because it didn't display correctly on the device they were using.
Ninety percent of people have left a website because it was poorly designed.
If you're about to redesign your website, don't miss out on keeping up with what's currently happening in the world of web design. You could end up with a poorly styled renovation.
First Things First: What Works (and What Doesn't)
One of the first things to do before you begin your website redesign is to figure out what elements of your website are effective. What landing pages are working for you? What is problematic, clunky or otherwise challenging for visitors to figure out when they come to your site?
Take a look at your website with an objective eye, through the perspective of a potential new client. What's clear, dynamic and exciting? What is challenging? Can you easily find what you're looking for? You can also look at the metrics and conversion rates for your landing pages to discover what has been successful and what needs work.
What Are Your Goals?
Of course, your brand needs a website: It's 2020. But what do you want your website to accomplish? If you create your website without a clear objective for what you hope to get out of it, it's like writing a research paper without a clear thesis statement: You won't have a goal, and you won't accomplish anything.
In my initial discovery call with clients, we go over what works and what doesn't, and what the business goals are for the site. It's not enough to just have a web presence, you need to make your website truly work for you.
So what is the goal of your website? Here are a few questions to narrow down your website's "thesis":
Why is it important for you to have a website?
How do you plan to measure the success of your website? How will you track that?
Who are the people who will be using your website? What for?
What should users gain from visiting your website?
What will users do after they visit your website?
How does your idea for your website compare to similar brands? How can you improve on what they are doing?
Do you expect your website to generate revenue? How?
Once you start to narrow down your objectives, you can apply them actively to your new web design. You'll end up with a much more effective result.
It's More Than Color and Typeface: What Does Your Content Say?
Your website should be beautiful; after all, it's a reflection of the work your company does and your team's impeccable attention to detail. So go ahead and research which colors will send the right message, and find a typeface that fits your brand's tone.
But.
Don't just get caught up in how your website looks. A website redesign is the perfect time to retool your website to be more focused on inbound marketing and on-page search engine optimization.
What does this mean in 2020?
The biggest factor that can affect your SEO currently is the quality of your content. It's not enough to just hit all the right keywords anymore. Use your analytics to discover which articles and which pages you've created have been the most successful. If creating content like blogs is new to you, that's OK too! This is the perfect opportunity to include content to bring in leads.
What should your content say? You have some freedom here, but don't just focus on all the great things your company has done—that's not relevant to your potential customers. Instead, how can you solve your clients' problems? What content would be most beneficial for your ideal audience? The content you share is a great opportunity to share your expertise and also establish who you are as a brand, so be authentic.
You can be really creative with your content too! Maybe you make some fun instructional videos or post webinars—just be sure to include the transcripts too to ensure that your content is searchable.
What Is the User Experience?
Once you've settled on your content, it's time to establish how your users will discover that content. Remember, your website is the core of all of your digital marketing efforts—you want it to be easy to use and easy to navigate!
Is your information easy to find? Sixty-four percent of users want to find the company's contact information immediately, and 52 percent want to see "about us" information. Have you planned to make these accessible and easily locatable?
Are you designing a website that will load quickly? Forty-seven percent of consumers expect a webpage to load in two seconds or less.
What else do users want to see for a great user experience?
Plenty of white space to make the content on the page more digestible
Calls to action and eye-catching, dynamic and motivating content
Hyperlink differentiation
Key information segmented into bullet points (kind of like this!)
Images wisely and tastefully used
Headlines that pique interest
Also, if you haven't already switched to a responsive design, this is the time to implement it. Responsive design isn't just a nice option anymore; in 2020, it's essential. Mobile traffic in 2017 made up 52.64 percent of all global web traffic—and it's only increasing each year. People are accessing your site on all kinds of operating systems on phones, tablets, laptops and desktop computers. Can your website keep up?
Are you still not sold on responsive web design? Here are a few reasons to make the change:
Nearly 50 percent of e-commerce revenue comes from mobile devices.
Sixty percent of users won't return to a website if it's not responsive or mobile responsive.
The user experience is all about functionality. How easy is it to access, navigate and consume your page? That's what you need to consider during your redesign process.
Be Aware of Trends … But Don't Rely on Them Entirely
It's good to know what is popular and what is catching people's eyes right now. But that doesn't mean you have to design your entire website to be a reflection of what's trending in web design in 2020. More important than being trendy is finding a website that rings true to the tone of your brand and your company's mission.
But it's good to know what conventions you're breaking and what trends are popular. Some of them may fit your brand perfectly! Here's Wix's list of the Top 10 Web Design Trends for 2020:
Oversized type and elements
Split-screen content
Blocks of solid color
Lots of white space
An exposed grid and windows
Fluorescent digital artwork
Overlapping layers
Motion on the page and user interactivity
Fullscreen forms
Tailored illustrations
Web design in 2020 is all about intuitiveness and making websites easy to use. It's about clarity; our world is so busy, that things should be simple and clear to get your message across plainly.
Coming up with a brand-new website or even doing a few smaller "renovations" to keep up with the times doesn't have to be overwhelming. Much of what's new and what's now are things we're already aware of simply because we all use the internet. However, if you're looking for some ways to bring your website into the Roaring 2020s, maybe it's time we talk.
---
I empower businesses and marketers to create automated content systems that elevate sales and delight customers. Here's how it works.
Also, heads up, I may receive commission on purchases made through links on this page.