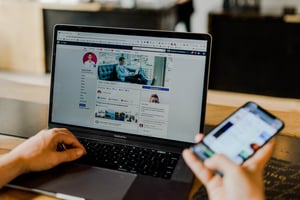 Your life is busy enough, managing a business and creating a website to bring in traffic and convert this traffic into sales. You're creating blog posts and promotions to establish yourself as an affordable, reliable expert in your field.
And now you have the responsibility of sharing your posts to all your various social media platforms too?
You don't have to balance all of those things yourself. You can make it easier to handle all of the things on your to-do list by automating some of them.
And when you create a new blog post or start a new promotion, you can auto-publish new posts to your social media accounts in just a few easy steps.
Many website hosts offer their own features or trustworthy third-party apps to generate posts for each of your social media accounts. Let's take a look at how you can simplify your life by auto-publishing posts to social media.
Via WordPress
If you use WordPress as your website host platform and want to save time and make your life a little easier by auto-publishing your brand's social media posts, it can be done in a matter of minutes.
So how can you auto-publish if you're using WordPress? WordPress offers multiple compatible plugins to match your needs, whether you want to revive old posts, share new blogs directly to your social media pages, schedule specific posts in advance or coordinate between multiple social media accounts.
The social media auto-publish features within these plugins allow you to publish your blog to Facebook, Twitter, LinkedIn, Instagram, Pinterest and more. These apps also allow you to filter posts based on categories and custom post types.
You also can create separate message formats for each social media platform, publish your post with a picture, and even include excerpts, descriptions and a permalink to your blog post.
Once you download the plug-in, establish your posting preferences and link in your preferred social media accounts, you're all set! With an auto-posting setup, you have more time to focus on creating stellar content to drive traffic to your site.
Via Shopify
When you are running a business, handling your own website design and managing a Shopify page, you need a shortcut to make your life easier. There are all kinds of ways you can grow your social media pages and use your social media to drive traffic to your website—that is if you also auto-post your products and posts to social media as well.
Auto-posting with Shopify requires an add-on app found in the Shopify store known as Post Studio. Post Studio integrates with Facebook, Twitter and bit.ly (with Pinterest and Instagram coming soon). It is simple and easy to use and takes about two minutes to set up.
Post Studio creates and sends as many posts as you choose based on your selections. It's that easy! You just press play and Post Studio posts products to your Facebook and Twitter pages daily. You get to showcase more products on your social media page every day with no extra work from you.
Another app to check out if you're looking to promote your products on social media is Outfy. I'm a huge fan of Outfy because it does all the hard work for you. You can schedule posts at specific times of day, and you define the post's template text, then the variables that are replaced with the already established product details on your website.
You also get a real-life preview of what each post will look like on your social media page. It's an incredible timesaver that frees you up to spend time on other facets of your social media strategy.
Via BigCommerce
Like Shopify and WordPress, BigCommerce requires additional app plugins to set up auto-publishing to your social media accounts. The good news? Outfy supports social media publishing via BigCommerce too.
You only have to pre-select your promotional details for your posts once, and then your posts reoccur at your chosen time intervals, without any extra work from you. You can modify your posts at any time and plan additional scheduled posts as well.
Outfy also offers ShoutOut, where you can share beautifully crafted collages and videos, and you can also share your blog posts and other content to your followers, so bringing traffic into your website is easier and more beautiful than ever before.
The main goal of auto-publishing the content you create to your social media accounts? It's to let people know about all the amazing things your company is doing and how you can make the lives of your clients and customers better.
What better way to do that than to streamline your social media marketing tasks so you can focus on your brand's mission while still spreading the word to all your followers?
When you auto-publish, you reach out to your followers, share your wealth of knowledge and promote your brand. You're already creating the content, why not make it shareable without having to add one extra thing to your list of tasks?
I help business owners and marketing professionals build powerful, automated content systems, which increase sales and boost customer happiness. Here's how it works.