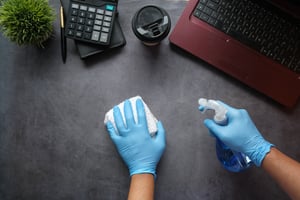 Everything requires maintenance, and your list of contacts in HubSpot is no different. Whether it's sales reps with a connected inbox adding every contact they email, marketing importing a list of contacts from an offline event or the usual ebb and flow of leads in the sales cycle, I can guarantee your contacts needs auditing.
A couple of things can trigger feeling like the data is too much, like realizing you've gone over your contact limit on your account. Or, you only have 100 customers but 100,000 leads, or you have very, very low open rates when you email everyone in your database. The truth is your list of 'junk leads' is growing by the day, and without regular maintenance to weed out those leads, your marketing and sales efforts aren't going to be as efficient as they could be.
So, how can you be more proactive and not only clean out those junk leads but have a process for doing so regularly?
The first step is two-fold: figuring out who you want to keep and who you want to remove. Starting with the most prominent groups, you know you want to keep customers and don't want to keep people who may have unsubscribed. You know you want to keep anyone associated with an active deal, and you probably don't want to keep anyone missing an email or other major piece of info, and so on. Before logging into HubSpot, think of the big, general groups of contacts to either keep or toss. I recommend keeping this in a Google Spreadsheet so that the process can be collaborative.
The next step is creating active lists and investigating how many contacts fall into these buckets. You may have thought about every situation and can just make active lists to target those you want to delete from your HubSpot account, and then go ahead and do so. Most likely, you'll come across contacts that are fringe cases, in which case I wouldn't worry about those or those in a whole new bucket you'll need to plan for.
Finally, it's essential to develop a plan for maintaining your newly cleaned contact database. This will be a combination of active lists to monitor junk leads and the frequency of monitoring. If your company is larger, monthly will work better.
Regardless of the level of HubSpot account you have or the size of your business, it's time to do a spring cleaning of your contacts so you can focus on the ones that matter.
I help business owners and marketing professionals build powerful, automated content systems, which increase sales and boost customer happiness. Here's how it works.