It's a fact - most of your potential consumers look for purchasing information on the web. This is why increasingly smart companies are paying more attention to their online presence, and specifically on providing an exceptional website experience. This is where HubSpot web design comes into the picture.
If you know anything about HubSpot, then you know that its one of the best ways to centrally manage and handle your online presence and branding. But you also realize that in order to grow as a brand, you need to have a unique image. And this includes having a unique custom website design that leaves a good impression on your visitors.
Fortunately, as with everything else, HubSpot handles this perfectly - with the help of their templating system. HubSpot allows you to use your own custom HubSpot template. Now whether you choose to create your own, or hire a professional, there are a few things you need to understand first.
When good HubSpot web design makes a great first impression
What does it take to ensure your site leaves a good impression? Well, if we consider people's tendency to judge a book by its cover, visual appearance would be one of the crucial factors to consider. The second most important factor is the site's performance. This includes how quickly and smoothly it loads on the visitor's computer.
The third most important factor is the navigation & usability. This means that its very easy and intuitive for the visitor to get exactly what they need from the website, be it product information, an FAQ or how to contact you. If you properly combine these three factors, you've got yourself a winning website.
---
(Click to Tweet)
---
The good news is that its easy to create good HubSpot web design using the template system. The trick is to learn how to properly use the HubSpot web design to make the most out of your website. All you have to do is make sure is that your design meets several simple (not easy, but simple) criteria.
It is optimized for multi-device usability
Employs great overall design
It is user friendly and easy to navigate

Communicates a visible value proposition
It is flexible, easy to edit and update
Clearly conveys the brand identity
5 examples of a great Hubspot web design use
Let's take a look at real world web design examples which meet this criteria. Here are 5 companies that have met all this criteria whilst utilizing HubSpot.
West Bend Mutual Insurance
Clean, simple and organized – exactly what an insurance website should look like. As soon as you visit West Band's site, you'll notice that it communicates integrity and responsibility. What is more important, it's extremely useful for both developers and users, thanks to the flexibility that the HubSpot web design offers.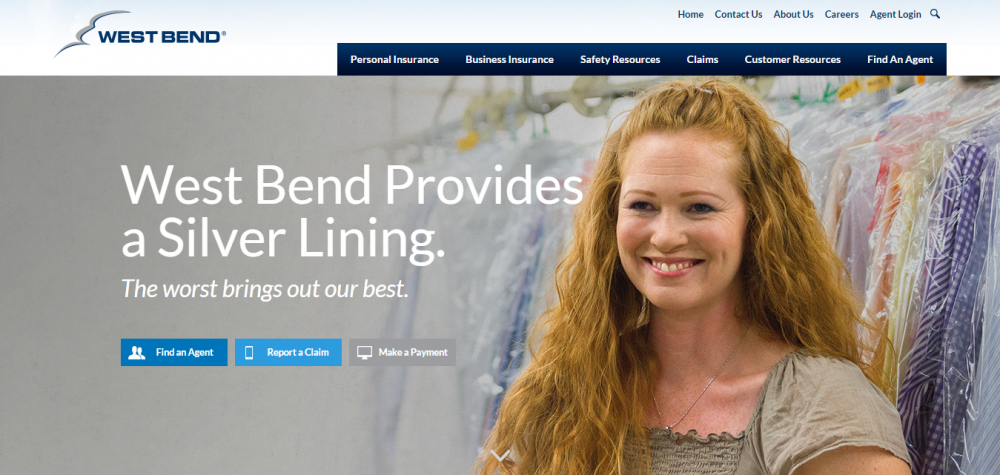 The site content is very well organized, with intuitive & streamlined navigation. Regardless of the device you are using to visit the site, you'll find everything that you need within seconds. You can find a West Band agent, report a claim, make a payment, or read the blog articles for some useful insurance-related information. This platform can easily turn visitors into leads, and leads into customers.
4Sleep
Wanna see a good way to present and sell top-quality memory foam products through a website? You should check out 4Sleep. Instead of listing technical information about various sizes and layers of the mattress, they have built an entire lifestyle around it. First, you'll fall in love with the site and the lifestyle it promotes. Then, you'll automatically choose the size in which you want this awesome product delivered to your address.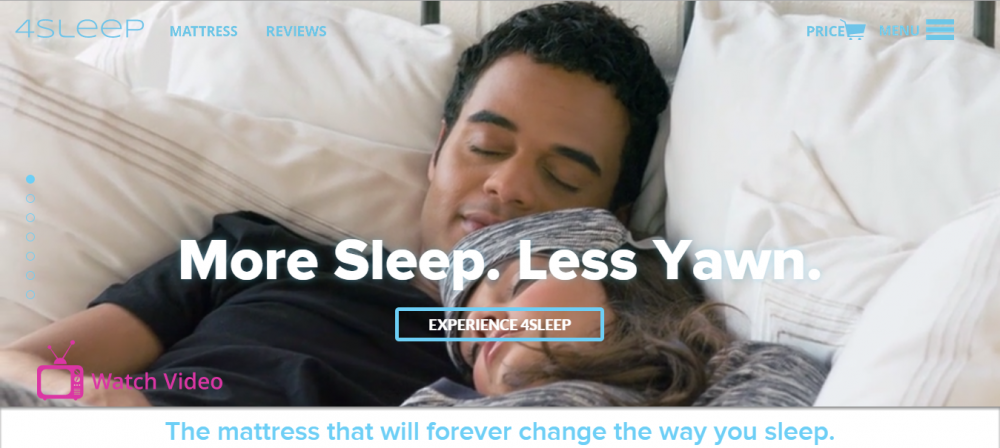 The desktop version of the site offers a great multimedia experience. It visually paints a picture of the benefits that the product offers. However, you won't find yourself lost thanks to the dotted navigation bar that guides you through the homepage. You can also ask questions through the pop-out live chat. The mobile version of the site is simplified in order to improve functionality. The multimedia experience is left out in favor of a faster loading time.
Tout
Imagine you have a team of engineers, designers, product specialists, and entrepreneur clients. You would want your website solution to allow everyone in your team to change and update content, right? Well, the web developers at Tout have made this possible for themselves. And they say that they did only thanks to the HubSpot COS. It was the well-enginerred HubSpot web design features that helped them structure and scale the site according to their needs.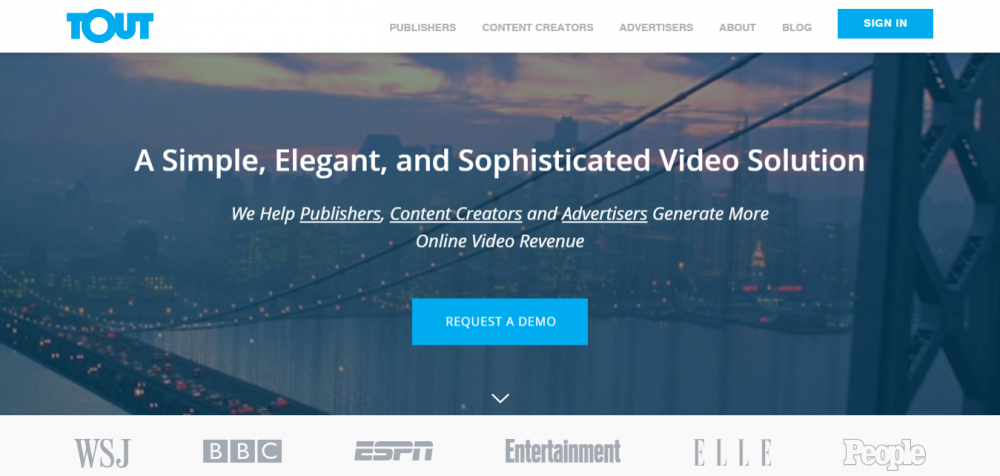 I must say that the result is outstanding! As soon as you land on their homepage, you'll be happy to spend at least 5 minutes browsing it. The company offers a simple, elegant, and sophisticated video solution. What's even better, the site is personalized and customized for each individual user.
Pharmacy Development Services
Talking about personalization, it must be said that the designers responsible for the Pharmacy Development Services site have done a fantastic job. You can customize the website from two aspects, right at its homepage. First, you have the option to choose if you are visiting the site as a pharmacy owner, manager, or an employee. Then, you can choose your goal:
to become a more dynamic leader
to differentiate your business
to raise your quality measures
to acquire awesome marketing ideas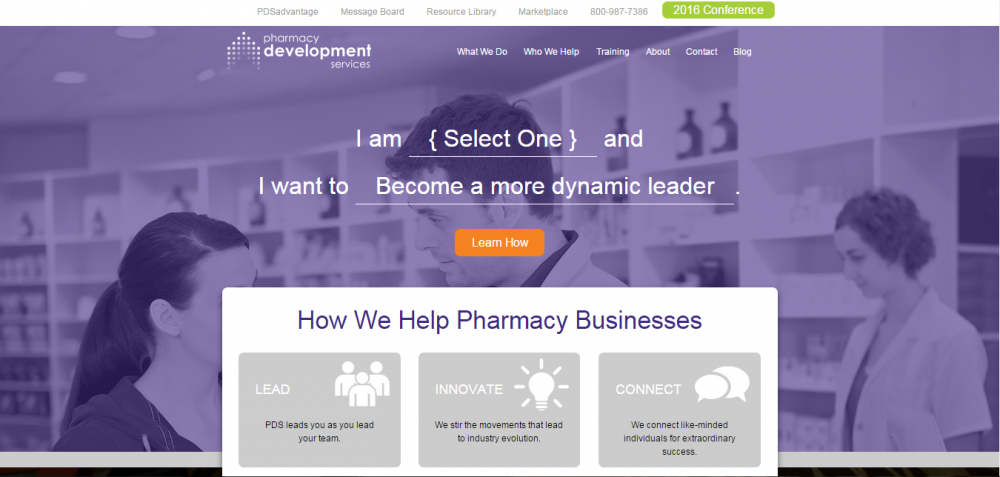 This simple tool helps visitors get straight to the information they are searching for. Depending on the goal they have, they'll land on a page with a blog article, video, or details about an upcoming training on the subject. This type of interaction offers an exceptionally engaging experience for everyone.
Granite Ridge Estate and Barn
The designers of this modern site have successfully captured the luxury event venue's spirit on every single page. They showcase the venue and the wonderful surroundings in detail, so you'll quickly get a feeling as if you were right there. Thanks to the large-scale photography and videos, it won't take long before you start picturing your next big event being held there.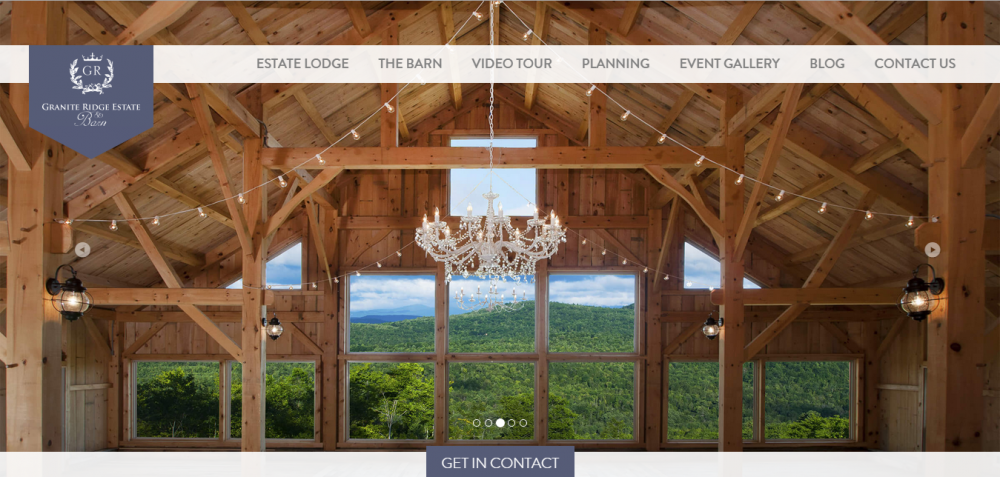 What I like the most about the Granite Ridge Estate and Barn site is the mobile responsiveness. The large-scale visual content does not affect the mobile functionality of the site at all. The designers say their secret lies in planning the mobile version from the very first moment they started working on the site.
I help business owners and marketing professionals build powerful, automated content systems, which increase sales and boost customer happiness. Here's how it works.