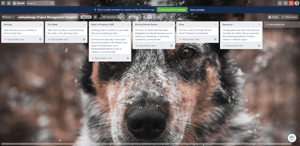 I've been through the ringer when it comes to finding a project management system that works for my inbound marketing consulting or HubSpot CMS development clients.
This is because not every project or client is the same. There are always little adjustments that need to be made, whether it's specific tasks that need to be done, the frequency of when we meet, or the number of team members I collaborate with.
In the past I used Todoist, then Trello, then Teamwork. Then I gave up altogether and stopped using any project management system at all. Now? I'm back to using Trello.
For my personal task and time management needs, my answer for years has always been my bullet journal. It's what makes the most sense for me for personal work projects, and a lot of people tend to agree.
But what a notebook can't solve is the back and forth discussions that need to happen with clients, the sharing of documents and files, and the insight into the status of various tasks when it's time to collaborate.
Why I'm Back on the Trello Train
There are a few undeniable benefits when it comes to working with my clients in Trello, which include:
Trello is simple yet flexible. I have the same lists on every board to address project backlogs, projects in progress, and completed work. And when we have to personalize a board to fit a project or client? We just add lists as needed.
Trello's Kanban method lets clients see asynchronously where things stand. It makes our entire collaborative process transparent to them.
Trello serves as the agenda for the weekly or biweekly calls I have with my clients. We move from right to left, tackling each Trello card as needed, handling any roadblocks as they come up, and chatting about anything they've added to the list
How I Incorporate Trello into My Processes
Now, Trello works for me because my company is a lean, mean, inbound machine; our team is very small. If I had a larger team of designers, developers, and content writers, then I'd likely be using another platform like Asana or Teamwork.
Currently, I have one board for my intern and another board for other tasks I've delegated to my virtual assistant team. For these boards, I can copy and share cards from client boards so we can divide and conquer. The rest of my boards are the ones that I share with my individual clients and anyone else on their team as needed.
Here's a quick summary of how I break down Trello's features:
Trello card: Each card contains an actionable task. Sometimes I include a checklist for sub-tasks or processes.


Trello List: This outlines the progress of the task in question.


Backlog List: This list is for the "someday" or "future" tasks. I also include the to-dos that would otherwise just be floating around in my head.


This Week List: This list is for what's planned for the current week, to quickly see what's on my plate. Each Sunday I plan out this list with estimated times for each task, as well as which day I intend to address each task. Some might use this differently, just listing out 25 things they want to work on for the week. That works too!


WIP or Work in Progress List: This list tracks all the tasks I'm actively working on that day. At the end of each day, I conduct a quick wrap-up and move incomplete tasks from this list back to my "This Week" list, or onto my "Blocked/Needs Review" list if I'm waiting on someone else.


Blocked/Needs Review List: This list is for anything that's been delegated, as well as anything that is currently held up if I'm waiting for a response from someone else. This is the first list I talk to clients about during our regular check-in calls because often these tasks are so close to being done, but I just need something like an errant image file or their quick glance-over of a scheduled email blast.


Done List: This list is fairly self-explanatory. Even when I think something is completed, if there's a continuing conversation happening regarding a finished task, then I either move it out of the "Done" list or I create a new card.
My system is pretty simple, but I thought I'd share a Trello template you can use anytime you start a new project. You can check that out here:
I help business owners and marketing professionals build powerful, automated content systems, which increase sales and boost customer happiness. Here's how it works.